What Car Should You Buy Your College Kid? Our 9 Top Picks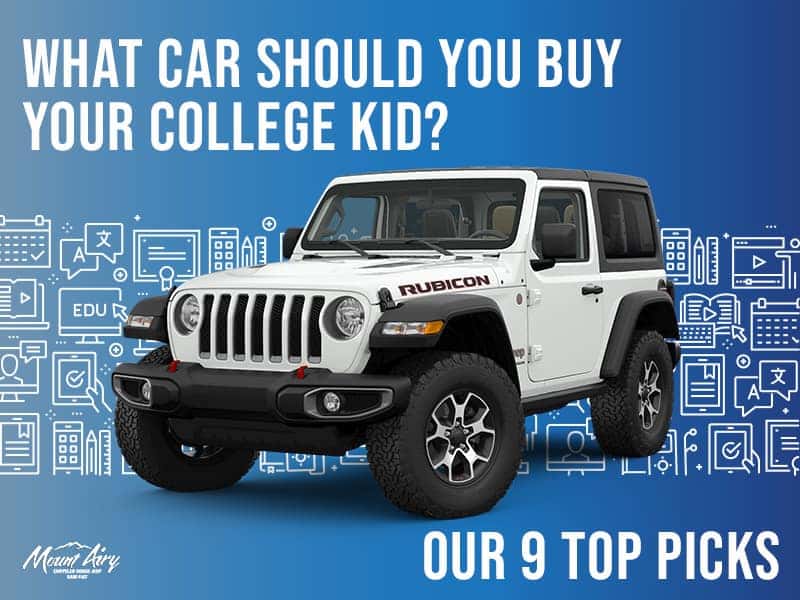 You and your college-bound kid have plenty on your plates as you prepare to send them off to school. While it's undoubtedly an exciting time, it also comes with its fair share of stress. Not only does your son or daughter need to register for classes, buy academic materials, and pack for the move, but they also need to think about how they will get around their new town.
Some students opt out of using a car on campus. If they have everything they need in the vicinity of their dorm room or apartment, it may not be worth the costs of fuel, registration, insurance, and repairs. After all, most parents are all about anything that reduces monthly living costs and student debt!
That being said, if your child does need a vehicle — whether they have a commute or simply want more flexibility — it's essential to choose the right one. The car must be affordable, safe, and reliable. And it helps if it's a model that appeals to your kid! Let's talk about the most important factors of a student-friendly vehicle and look at nine of the best models today. 
Crucial Considerations for a Student Car     
There are several considerations to make when choosing what type of vehicle to purchase for your college-bound kid. Here are some of the most significant ones:
Price
The initial cost is one of the most critical factors. You essentially have two paths to take: buying a used or new car. 
Most parents cannot afford to purchase a new vehicle for their teenager, making a used car the sensible and economical option. You can buy a used car at a significantly lower price point, even if it's just three or four years old. And you can likely find a nice late-model used car with considerably low mileage.
Of course, there are perks to buying a new vehicle. While the upfront costs will be relatively higher, you probably won't have to pay as much for maintenance and repairs while your child is in school. Plus, you don't have to worry about accident history or high mileage, and you'll know your child has the most up-to-date safety and convenient technology.
Safety 
As a parent, safety is a critical characteristic when buying your son or daughter a vehicle. Before committing to a purchase, research the safety ratings and features of the car's specific make, model, and year. 
How did the vehicle perform in NHTSA and IIHS crash tests? Does it have automatic braking, forward collision warning, blind-spot monitoring, rearview cameras, and other driver-assist systems? The more safety features, the better.
Fuel Efficiency 
Gas mileage is also an essential factor when purchasing a vehicle. With a national average of $5 per gallon, you'll need to consider fuel efficiency whether or not your kid will have a long commute to school. 
You'll also want to think long-term.
Are you buying your teen a car solely for their time in school? Or will they need it after graduating to commute to their future job?
Hybrid models generally aren't the cheapest options, but you might be able to find a used hybrid car at a reasonable price. Compact vehicles typically offer better fuel economy than their larger counterparts, regardless of whether they're powered by gasoline or an electric motor.
Take time to research the EPA mileage ratings of any car you're considering. The average is about 25 MPG combined, so try to get as close to that number as possible (or much higher). 
Convenience Technology
Not surprisingly, newer vehicles offer more features and amenities than older ones. While your college-bound kid may not need the niceties of a luxury model, high-tech features can make their driving experience safer and more enjoyable.
Safety features are critical, but you also want to think about convenience technology, such as:
• An intuitive infotainment system
• Apple CarPlay and Android Auto compatibility
• Bluetooth connectivity
• Wireless phone charging
• Wi-Fi hotspot
• Second- and third-row USB ports
• Heated and cooled seats
• A heated steering wheel
• Automatic windows
You might be hard-pressed to get all these features in a budget-friendly vehicle. The goal is to find a car that keeps your kid comfortable and minimizes on-road distractions. 
Size and Maneuverability 
As mentioned, small cars generally provide better gas mileage. But they're also easier to maneuver around town and park in tight spaces — traits that can come in handy in college life. Besides, unless you're son or daughter already has a family of their own, a larger model probably won't benefit them very much.
Insurance and Warranty
The specific vehicle type may impact the insurance cost on your kid's new or used car. Before committing to a purchase, research the possible insurance rates for the make, model, and year. Here are a few other factors that influence premiums:
• The vehicle's value
• Personal driving record
• Residence
• The vehicle's safety features
• State laws
Most new vehicles come with a 36,000-mile or 36-month limited warranty covering all components except for regular maintenance and expected wear. Most models will also provide a 60-month or 60,000-mile powertrain coverage. 
9 Best Cars for College Students  
So, you know what characteristics to look for in your college-bound kid's car. We've listed our nine favorite student-friendly vehicles below, ranging from midsize SUVs to compact hybrids. 
Much of your decision will come down to budget and preference, but each model has excellent safety ratings and provides all the basic safety and convenience technology.
1. Jeep Wrangler   
Technically, the Jeep Wrangler is a midsize SUV, but it's really in a class of its own. This is the most fun vehicle on the list to drive, but it's also ideal for riding around a college town.
The Wrangler isn't going to give you the best gas mileage, but it's an iconic vehicle that's perfect for taking weekend road trips, going on spring break, or enjoying a bit of off-roading with friends. And you can land an affordable used Wrangler by connecting with Mount Airy CDJRF!
2. Mazda CX-30
The Mazda CX-30 is about as close to a luxury vehicle as you'll find for the money. It's a subcompact SUV with a remarkably upscale cabin and design. It also has an 8.8-inch entertainment touchscreen, a Wi-Fi hotspot, Apple CarPlay, Android Auto, and plenty of other convenience technology.
The CX 30 has above-average reliability and safety ratings. It also delivers sharp handling and an all-around enjoyable driving experience. This SUV is affordable new, and you can score a genuine bargain on a used late-model. 
3. Kia Forte 
Speaking of bargains, it's hard to beat the value of the Kia Forte, with new models starting at under $18,000. In fact, it won the US News and World Report 2021 Best Compact Car for the Money award. 
The Forte provides a spacious cabin, competitive fuel efficiency, and an easy-to-use infotainment system. It will give you 31 MPG in the city and 41 MPG on the highway and comes with a five-year/60,000-mile basic warranty. The powertrain is covered for 10 years or 100,000 miles. The Forte is a sensible, reliable choice. Plus, it's nice to look at!
4. Honda Civic  
The Honda Civic has a well-established reputation for being one of the most reliable vehicles ever manufactured. It costs a little more than other compact sedans, such as the Kia Forte and Hyundai Elantra. But if your kid plans to drive their car well after graduation, it might be worth the higher price tag. 
New and late-model Civics provide all the safety and convenience features someone might need. Lane-keep assist, forward collision warning, a rearview camera, a collision mitigation braking system, and many other driver-assist technologies come standard. The Civic is also one of the safest vehicles on the road and features Honda's trademark sleek, modern design.
5. Toyota Corolla
You can get the Toyota Corolla in either a sedan or hatchback body, both of which are compact. The Corolla has long been one of the most popular vehicles among college students. New models come standard with Android Auto and a long list of other features and equipment.
The Corolla features a modern and attractive design. And while it isn't the fastest or most enjoyable car to drive on this list, it's highly efficient at 30 MPG city and 38 MPG highway. It also comes with Toyota Safety Sense 2.0, arguably the most comprehensive standard safety suite on the market.
6. Hyundai Elantra
The Hyundai Elantra is a fierce competitor of the Kia Forte. They come from the same class and offer a lower price tag than their rivals. Hyundai has built a strong reputation for reliability and value; no model demonstrates those qualities more than the Elantra.
One thing that sets the Elantra apart from the competition is its strong engine; it offers more than enough power for its size and is really fun to drive while also providing superb fuel efficiency. Your kid will also get plenty of standard technology to keep them safe and comfortable on the road.
7. Jeep Compass
The Jeep Compass is a compact crossover that balances the brand's rugged aesthetics with a sleek, modern vibe. This vehicle might be the best value on the list, especially if you go with a used model from Mount Airy CDJRF.
 The Compass looks remarkable from the outside, and the cabin is fresh, functional, and packed with plenty of technology. If you want a bit of the ruggedness offered by the Wrangler but in a more modern, compact package, this SUV could be the ideal choice.
8. Hyundai Kona  
Another Hyundai model, the Kona, is a quirky subcompact SUV. Its appearance is entirely unique, and there are many funky exterior colors to choose from. 
The Kona offers an all-around sporty design, a peppy engine, and athletic handling. You can even opt for a turbocharged engine if you want a little more pep. This car gives drivers a seven-inch infotainment display and essential smartphone compatibility. Front passengers will enjoy plenty of legroom, but this isn't an ideal choice for toting around all your friends.
9. Kia Soul
The Kia Soul is another model unlike any other on the market. Its design has become a Kia trademark; it essentially looks like a large, boxy wagon that is much more spacious inside than the casual observer might think. The Soul is perfect for driving around with friends while saving on fuel costs. 
This vehicle is widely regarded as one of the best subcompact SUVs in terms of value. It has many standard safety and convenience features and an excellent overall safety rating from the IIHS and NHTSA.
Check Out Our Lot!    
If you're going to navigate this thrilling and stressful time with your college-bound kid, you're going to need to do your homework.
There are plenty of student-friendly vehicles on the market to fit any budget, and your decision will ultimately come down to your teen's specific needs and preferences. 
As you decide on what type of car to purchase, remember to consider price, safety, fuel economy, and technologies. Visit clickmountairy.com or come by our dealership to see the wealth of options on our lot!