What's All the Fuss: Something's Up with the Dodge Ram 3500 and Jeep Wrangler JL
Customer curiosity has been piqued: what is Dodge up to with the Ram line of vehicles? And what does Jeep have going on with its Wrangler this year? Let's have a look at the Dodge Ram, during Ram Truck Month, and let's peek at the Jeep Wrangler and see why it's earned Motortrend's 2019 SUV of the Year award. Maybe we can find out what all the fuss is about.
What does 2019 and beyond promise from Dodge and Jeep? Well, their 2019 models tell us where the Ram and the Wrangler will be heading in the years to come, and we think it's something special. Mount Airy would love you to come down and test drive one of these beautiful vehicles so you can see for yourself!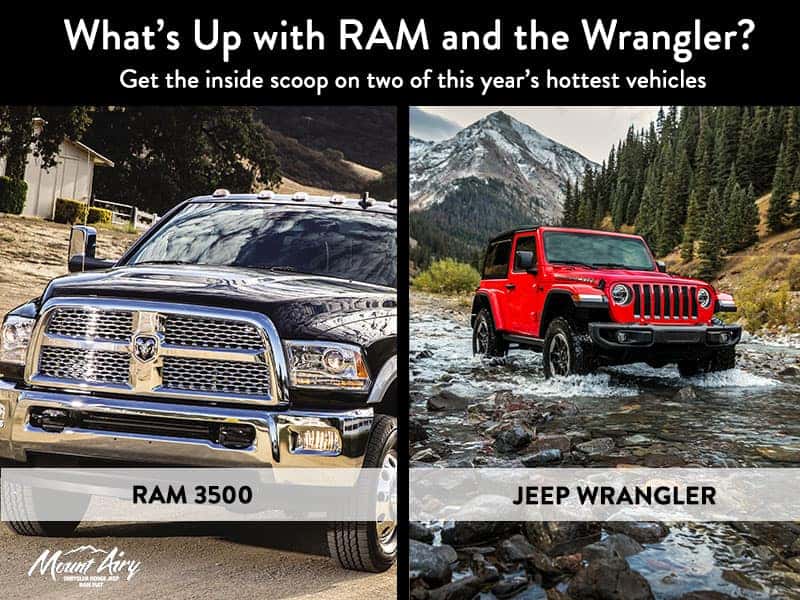 Ram 3500
Unique Features:
First off, the Ram 3500 has stacked up a few accolades already—and it's not even debuting until Spring! But let's recap some of its features, and see what Ram has going on:
Diesel Towing Capacity: The Ram 3500 has 35,100 pounds of towing capacity with its diesel engine, which means that hitching a trailer or towing another vehicle could not be any easier. And its dynamic centerline display with hookup assist makes the initial hookup super simple. Want Auto-level Rear Air Suspension on your Ram 3500? That's an available option!
Diesel Torque: The first heavy-duty truck to offer 1,000 pounds of torque on its diesel line? That would be Ram 3500. Stack that up against Toyota or Honda or Ford and see if who comes out the leader in torque! It is the Ram every time.
Payload: For those of you looking for gas over diesel engines, consider this fact about the Ram 3500: the gas engine has best-in-class payload of up to 7,680 pounds (and the diesel has 6,910 pound payload, which is no small number itself). And for the engines, you can opt between the HEMI V8 gas engine or the Proven and Legendary Cummins Turbo Diesel I6 diesel engine. Whatever engine best suits your lifestyle, Ram has you covered for all of your hauling, stacking, lugging, and transporting needs.
Lights at Night: Ram has some unique offers on the 3500. Not only does Ram feature full-LED Headlamps and mirror-mounted rear spotlights, but you can also opt for Ram's exclusive Adaptive Forward Lighting System. What does that mean? The headlamps' aim goes where you turn, so that as you turn the wheel the headlamps follow and keep the light on where you're going (not where you just were). That's safety and that's smart. That's Ram 3500.
Touchscreen: Ram now offers the largest touchscreen available in a heavy-duty truck. With twelve inches of touchscreen space, your navigation and infotainment options just got easier to see and easier to interact with. And you get a 360-degree Surround View Camera alone with Trailer Reverse Guidance View as an available option, to boot. That's easier. That's better. And that's Ram.
Safety and Assist Available Features: Ram 3500 offers ParkSense Rear Park Assist, which is useful for those parallel parking moments on a city or town street. It uses six sensors to help protect your fenders as you navigate the parallel park or K-turn out of your spot. And consider the Forward Collision Warning with Active Braking feature that assists your driving by warning you of a potential forward collision (which also only works even when a trailer is attached). And those are just a teaser for what available options Ram 3500 has stacked on deck.
Pricing and Specs:
Ram announced on February 19 the starting retail prices for its Ram 3500, which comes in various trims and body styles: Limited, Laramie Longhorn, Laramie, Bighorn, and Tradesman.
For example, consider a well-equipped Tradesman regular cab 4×2 with an MSRP of $33,395 with a $1,695 destination fee. The Ram 3500 Limited Mega Cab 4×4 is equipped with a 12-inch Uconnect 4C touchscreen would come in at $67,050 (plus standard destination fee).
All models come with the standard 6.4L HEMI V8 with 8-speed automatic transmission. If you want to onboard the Cummins Turbo Diesel with 6-speed automatic transmission, add $9,100 to the model of your choice. Adding the optional 1,000 lb.-ft. torque Cummins High Output, paired with the Aisin 6-speed transmission? Just add $11,795 to the base price.
Customer Reviews:
Because the model does not roll out until Spring, we will consider what Motortrend's review has to say about the Ram 3500: "Ram's big trucks get a full style and tech makeover" their website posted. They go on: "a great deal of engineering went under the hood of the new Ram HD." Motortrend also liked the upgrades in the cabin and the technology features: "Passengers will play with their phones in more comfort than ever" do to upgrades in the design of the Ram 3500, which will make for a smoother, quieter ride in the cabin. "These customers are telling truck makers they want three things, and they want them in perpetuity: more power, more technology, more comfort," and Motortrend believes that Ram has delivered on all three points—and so do we at Mount Airy!
Special Offer on the Ram 3500 Dually
What more needs to be said about the Ram 3500 that hasn't already been mentioned? It's a perfect fit for all heavy-duty jobs, it can haul and carry enormous payloads, and it has power to match all your needs when on the job site. It is a work horse, in the truest sense of the word.
Pricing:
Right now we offer a 20% off discount on the Ram 3500 Dually with "On The Job Upfit" for all our in-stock vehicles. One example is the 2018 Ram 3500 Tradesman Crew Cab 4×4 8' Box, with a 6.7L Straight 6 cylinder engine and 6-speed automatic transmission—which comes fully loaded with technology goodies. With current discounts and bonus cash offers amounting to $8,615, that brings the price to $50,940. And we have up more models on the lot, all ready to move.
110% Price Guarantee
With Mount Airy's 110% Price Guarantee, and our superior service, we assure our customers the smoothest, most expert car buying experience. Here's one recent customer review that we are proud to share with you: "Very good customer service, very quick and nice people. The new service manager is awesome! Took great care of us and fixed our problem right away. Highly Recommend them."
Jeep Wrangler JL
Unique Features:
To begin, let's talk about how Motortrend has named the Jeep Wrangler JL the "SUV of the Year" for 2019! Wow. And the Wrangler JL was in competition with 35 other SUVs for the acclaimed spot, making itself the SUV leader. So, let's take a look at some of the features that won such a prestigious accolade.
When Motortrend named the Wrangler JL, they looked at six categories to arrive at naming it the 2019 SUV of the Year. And they concluded, "The new Jeep Wrangler is what crossovers want to be when they grow up." Let's look at a few of the things that won the Jeep Wrangler such high marks:
Off-roading and all-weather capabilities: Let's start with what has made Jeep Wranglers so famous. The Wrangler is unparalleled in its design, built around its high-sitting 4×4 system. That means it beats the competition when it comes to traction, water fording, maneuverability, articulation, and ground clearance. Want to climb around the Blue Mountains? Jeep Wranger is for you. Want to escape to the sandy dunes of the Coast and go fly fishing? Think Wrangler. Hitting the trails for a good, long hike. Take the Jeep.
Safety & Security: Jeep Wrangler offers an available package called "Advanced Safety Group" that includes Full-Speed Forward Collision Warning with Active Braking, which can help to alert you and assist you in preventing a collision. Also, Adaptive Cruise Control or Enhanced Adaptive Cruise Control can read your speed against the speed of others around you, on the road, and adjust to the flow of traffic.
ParkSense and ParkView: Jeep also offers ParkSense Rear Park Assist, employing sonar technology to watch for obstacles behind you or alert you to a potentially hazardous situation when you attempt to parallel park or back up. And this comes paired with the ParkView Backup Camera, so that sonar and camera work together to ensure the safest possible parking scenario.
Blind Spots and Rear Cross Path: Jeep offers both Blind Spot Monitoring and Rear Cross Path Detection so that, when you're out on the highway, your Wrangler will alert you if another vehicle is driving in your blind spot or if a car is crossing through your path as you attempt to back up. Those safety features seem essential and common sense in such a fast-moving world.
Technology: Jeep Wrangler has available the Uconnect 4C NAV with 8.4-inch touchscreen and Navigation system, which offers a bright and large screen for your navigation and infotainment needs. And a feature worth noting is Wrangler's ability to launch its own powerful 4G Wi-Fi Hotspot, which can handle up to eight devices at once. Connected? Yes, the Wrangler keeps you connected and GPS-driven in multiple ways when you're off-roading or cruising the highway.
Pricing and Specs:
The Wrangler comes in five models that start their pricing at an MSRP of $31,545. The Wrangler Unlimited Sport 4×4 starts there and the Sport S has an MSRP of $34,745, while the Wrangler Sahara launches at $38,395 MSRP.
Customer Reviews:
Let's finish up by looking, again, at what Motortrend concluded when it reviewed the new 2019 Jeep Wrangler: "This Wrangler, this iconic Jeep, exists because it's always existed, and this new one is the best one yet…No, Jeep faithful, they didn't ruin it. They didn't even make it just as good as the old one. They made it better in every way."
Check out this hot deal on our lots at Mount Airy—but you better act fast, as prices this hot won't last long: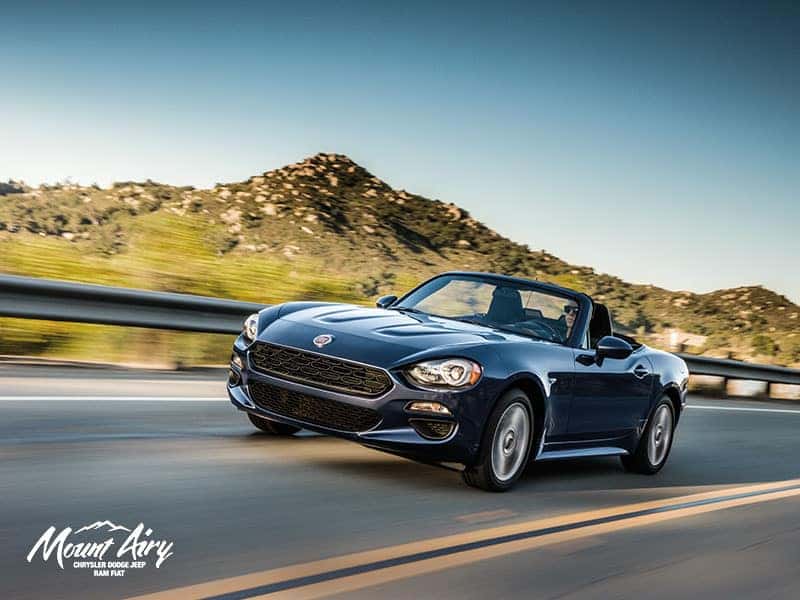 Fiat 2018 Spider
This is a sporty performance car. It's flashy and fun and U.S. News and World Report named it the Best Sports Car for the Money, and Cars.com conferred the accolade of Best New Convertible of 2017. Also, Consumer Guide named it their Best Buy Award in Sporty/Performance Car Class for the second year in a row.
The Spider debuted in 1966 and it's a true Italian sports car that lives up to all you would want from a sports car. Its beautiful Italian design and styling accents make it quite the looker, and driving it is a dream. Just imagine zipping around sharp curves and softly cruising for miles down long stretches of open road. This is what driving is all about.
Pricing
Right now Mount Airy has taken 18% off its price for the stock of Fiat Spiders on the lot. The 2018 Fiat 124 Spider Classica has a MSRP of $26,240, and with the sales we are running, you can take $1,395 off that MSRP. Bonus Cash offers can take off another $4,750, for a total savings of $6,145!