Which Jeep Are you?

New Jeeps are in! May is coming to an end and the start of the summer season is approaching. The perfect wind-through-your-hair vehicle is the summer's most versatile vehicle out there, THE JEEP! Mount Airy Chrysler Dodge Jeep Ram is proud to share the jeep lineup for summer!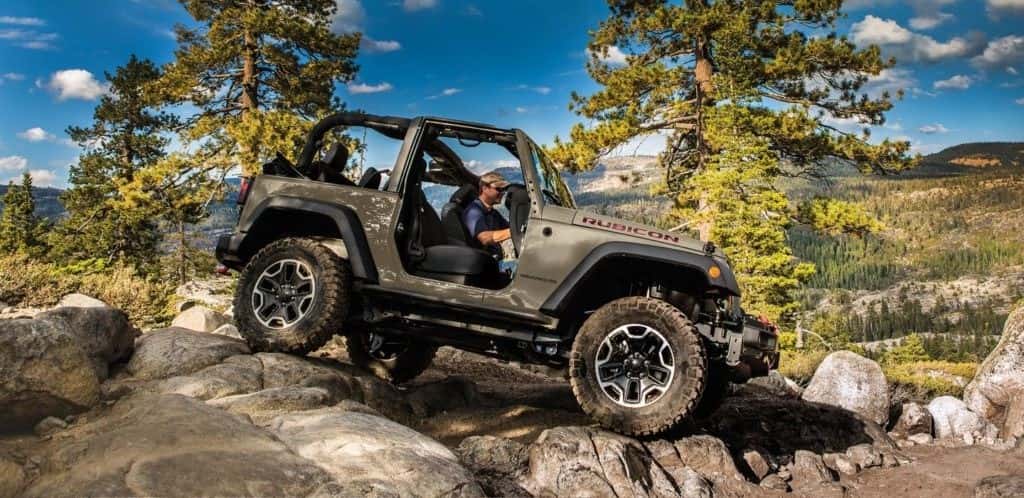 Adventure is your middle name! You loving being outdoors and exploring the world. Diving into nature is your favorite way to pass the time. Hiking is your description of the perfect vacation! Whether it's a short hike to a waterfall or a long ride to a camping site, you are down for the adventure. You also aren't afraid of getting dirty. You don't mind going fishing, hiking in the mud, or climbing over rocks, which just brings on the fun.
With the 2017 Jeep Wrangler, your perfect vacation just became your everyday ride. The Jeep Wrangler is the wind-in-your-hair vehicle that sparks adventure in even the most normal of tasks. With off-roading, mudding and water crawling are easy and fun ways to spend the day. Pop down the top and take off the doors, it's time for adventure!
The Jeep Wrangler has an impressive design and many features, including:
Open-Air Freedom- For a Jeep Wrangler, summer means doors off and top down! The Wrangler is the only vehicle out there with this much open air freedom and capability.
Hidden Storage- Securing your valuables is a must. The Jeep Wrangler has open-air capabilities, but still has hidden storage with Fold and Tumble seats, a center console that features a lockable storage compartment, and storage nets.
Incredible Capabilities- Snow, rock, sand, or mud, the Jeep Wrangler has you covered with its amazing off-road maneuvers. The Jeep Wrangler is equipped with a 3.6 Liter Pentastar V6 Engine. Plus it has 285 horsepower and 260 pound-feet of torque.
Towing Abilities- The Jeep also has up to 3,500 pounds of towing and hauling abilities. This is perfect for towing boats, jet skis, and trailers.
Safety and Security- Safety is important in a vehicle as open and free as this one. All Jeep Wranglers offers trailer Sway Control for safety when towing and a stable and durable frame to keep you and your passengers safe.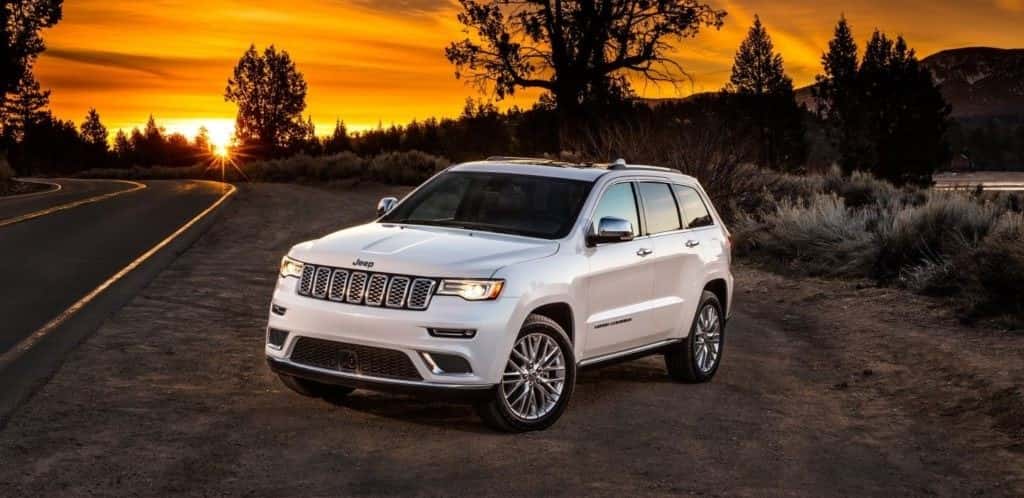 A look of professionalism is important to you. You are family oriented and a hard worker. But you don't let this come in the way of your fun and outgoing side. When you aren't working, you love taking the family out for a weekend getaway.
The 2017 Jeep Cherokee is a loyal vehicle that holds its value. It has an elegant appearance and a luxurious interior that provides comfort for everyone. This roomy SUV has top safety and technology features to keep you and your family safe and entertained. The vehicle is equipped with top off-roading abilities and has the capability and performance for all your vacations.
Top Features of the Jeep Cherokee Include:
19-Speaker Harman Kardon Audio System- Maximize the interior acoustics with a full cabin music experience. With these premium speakers, your music will keep everyone entertained.
All-New Signature Leather-Wrapped Interior- The leather interior is an optional package that includes premium Laguna leather, leather-wrapped seats, an upper and lower door console, and a center console and glove box.
Rear Cargo Storage- The cargo space in this jeep helps you fit all your luggage with up to 68.3 cubic feet of space.
EcoDiesel Engine- The optional Ecodiesel engine allows for awesome performance and improved range and power.
Full-Speed Forward Collision Warning with Active Braking- Safety is a top priority! This feature is designed to prevent traffic accidents by warning you and even stopping your vehicle to avoid a crash.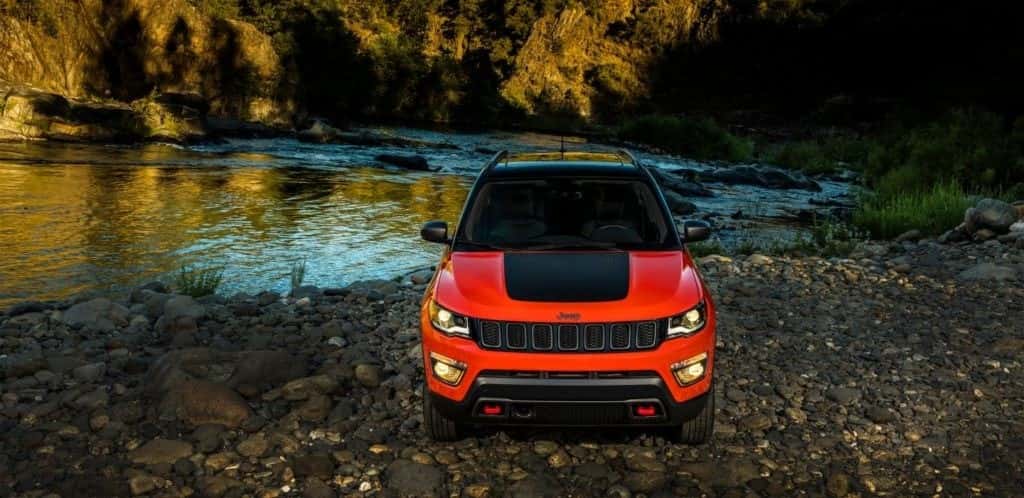 Exploring anything and everything is your dream. You love to just go out and drive with no specific destination. You enjoy embracing the simple and unknown adventures because you believe the best things come when you least expect it.
With the all-new Jeep Compass, you are free to roam! This sleek looking vehicle has appealing and daring features! Wherever you travel there are numerous ways to get there and the Jeep Compass can take you on whichever path you choose. No matter the terrain the Jeep can handle it! With off-roading and towing capabilities this vehicle was made for exploring!
Top features include:
Leather-Trimmed Seats with Perforated Inserts- These seats provide excellent quality, comfort, and style.
8.4-Inch Uconnect Touchscreen- The technology of the touchscreen provides safety and entertainment while helping you travel. And the touchscreen has navigation abilities to help guide you to your destination. Experience the improved navigation, Android Auto, and Apple CarPlay. The touchscreen also has enhancements to the user interface.
Signature Lighting- LED headlights and rear lights give the exterior a bold look. Optional features like the daytime running lamps give the vehicle a distinctive feel.
Maximum Cargo Space- To ensure that you have plenty of cargo room, the Jeep has adjustable cargo floors, folding Seats, and versatile storage areas. The cargo floor can be moved up and down to make loading and unloading easier. The seating in the Jeep is also versatile to help fit your passengers and cargo needs with 60/40 fold-flat rear seats.
Powerful Performance-This Jeep has a 2.4 Liter Tigershark Multair 2 Engine with up to 180 horsepower and 175 pound-feet of torque. This allows for up to 2,000 pounds of towing abilities.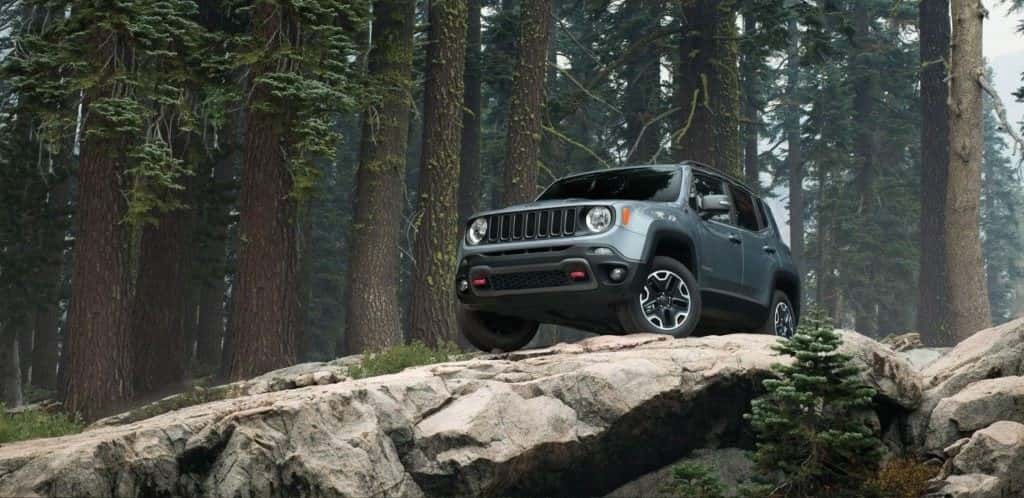 You're outgoing, energetic, and exciting. You enjoy making the most out of the simple things in life. Watching the sunset from the top of a mountain or the side of the lake is your idea of a perfect evening. Relaxing and personable adventures excite you.
Top features include:
Trail Rated 4×4 Capability- This bold vehicle is tough and ready for any off-roading experience.
Selec-Terrain System- No matter what terrain you are driving on, this vehicle is equipped for it all: mud, sand, snow, are all available settings to create the perfect off-roading experience.
Driver Information Digital Cluster Display- Keep your eyes focused on the road by having everything you need right on the dashboard. This available 7-inch Driver Information Digital Cluster Display features everything from your speed to type of terrain.
Active Safety and Security- There are many top-ranked safety features available including LaneSense, Lane Departure Warning, Forward Collision Warning with Active Braking, and Blind Spot Monitoring.
Uconnect 6.5 Nav- This interactive system allows you to control the navigation system and entertainment all from the convenient touchscreen. 
Mount Airy Chrysler Dodge Jeep Ram is ready to take you on a test drive in the vehicle that best fits your style and personality. Call (888) 486-2718 to learn more about the Jeeps in Mount Airy, North Carolina.