11 Most Fuel-Efficient Trucks of 2022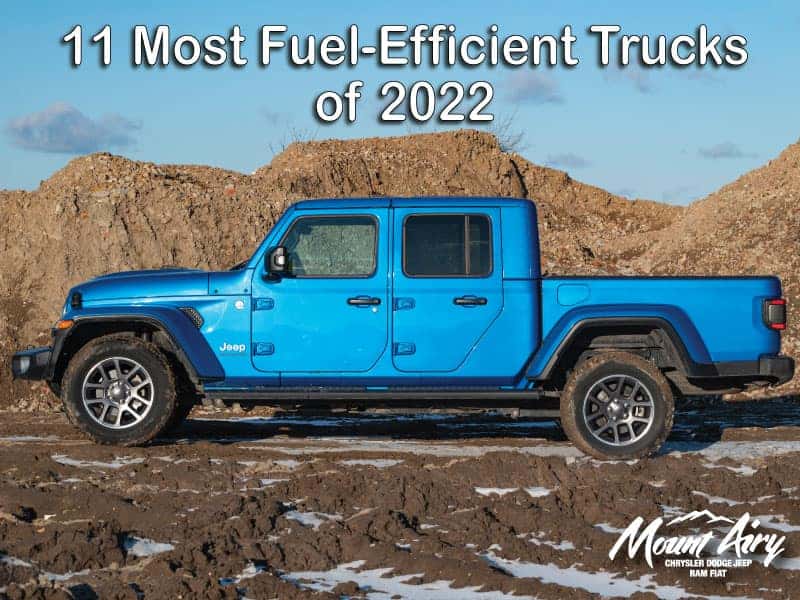 You might think about fuel efficiency when choosing which pickup truck to buy next, but chances are your standards are pretty low. After all, mid-size and full-size pickups have been known for guzzling gas for decades.
However, times have changed. And you might be surprised by how many trucks are capable of decent fuel economy.
Between the lighter frames of modern mid-size trucks to the enhanced diesel and hybrid engines on the top full-size models, you can find a truck that eases your pain at the gas pump.
Below, Mount Airy CDJRF discusses the 11 pickup trucks with the best gas mileage and shares some tips for charging an electric vehicle!
11 Most Fuel-Efficient Trucks (2022 Model Year)
Without further ado, let's talk about those trucks that can help you keep the fuel costs down:
1. Rivian R1T
The Rivian R1T is the first all-electric pickup truck on the market. It's a high-tech truck that includes a 12-inch digital gauge cluster, a 16-inch touch screen, and lots of upscale materials throughout the interior. The cabin's sleek design shines through without compromising head- and legroom.
Only the R1T with the 135-kWh battery pack has been tested by the EPA, which found that the pickup can travel 314 miles at 66 MPGe on the highway and 74 MPGe in the city. One of the most impressive aspects of the R1T is its quad-motor design placing an electric motor on each wheel. All the motors combined produce 835 horsepower, enabling the R1T to conquer off-road terrain and accelerate like a sports car.
2. Ford Maverick Hybrid
As one of the smallest trucks on the market, the all-new Ford Maverick is the only pickup equipped with a standard hybrid engine. The base Maverick matches an electric motor and 2.5-liter four-cylinder engine with a continuously variable automatic transmission (CVT). It yields 33 MPG highway and 42 MPG city — on par with many compact cars.
The Maverick rides on the same platform as the Bronco Sport and Escape compact SUVs. The result is reliable handling, a smooth ride, and superb gas mileage. For most drivers, these traits make up for the truck's lackluster off-roading and towing capabilities.
3. RAM 1500 EcoDiesel
The Ram 1500 is ranked number one in full-size pickups through many outlets. It's among the most powerful and capable trucks available and arguably the most luxurious and comfortable. The interior and technologies of the higher 1500 trims rival those of many luxury vehicles.
Opting for the 3.0-liter V6 turbodiesel engine (EcoDiesel) will give you 32 MPG on the highway and 22 MPG in the city. Ram matches the engine with an eight-speed automatic transmission and rear-wheel drive. Connect with Mount Airy CDJRF to learn about the 1500 models on our lot!
4. Chevrolet Silverado 1500 Duramax
As with its competitors, the Chevrolet Silverado comes in many different trims. To get the most from your fuel, choose the 3.0-liter six-cylinder turbodiesel engine (Duramax) that produces 277 hp and 460 pound-feet of torque. It also tows up to 9,500 pounds.
This engine provides 31 MPG on the highway and 23 MPG in the city when paired with rear-wheel drive. The 2022 Silverado 1500 comes with a newly designed cabin, a 12.3-inch digital instrument cluster, and a 13.4-inch touchscreen.
5. GMC Sierra 1500 Duramax
The GMC Sierra 1500 and Chevrolet Silverado 1500 share many of the same elements, including the Duramax engine. The Sierra yields 30 MPG on the highway and 23 MPG in the city.
GMC updated the Sierra's exterior design for 2022 and touched up the cabin with higher-quality materials and unique styling. The truck also sees a significant tech upgrade that includes a 12.3-inch digital instrument cluster, a 13.4-inch touchscreen, and the GMC Super Cruise system.
6. Ford F-150 Hybrid
The Ford F-150 has a long-standing reputation for offering a well-rounded lineup of trims and engines. Drivers get 3,325 pounds of payload, 14,000 pounds of towing, intuitive technologies, and an upscale cabin that is bested only by the Ram 1500.
The F-150 also comes available with a full hybrid powertrain. The combo includes a 3.5-liter twin-turbo V6 engine and an electric motor that produce 430 hp and 507 lb-ft of torque. This engine is the most powerful and fuel-efficient in the lineup, yielding 25 MPG on the highway and in the city.
7. Jeep Gladiator EcoDiesel
The Jeep Gladiator is one of the premier pickup trucks for off-roading. You can opt for up to 11.6 inches of ground clearance, world-class suspension, and heavy-duty skid plates. And, of course, it comes with the trademark removable doors and roof.
You can choose between two engines on the Gladiator. The 3.6-liter V6 is a powerful engine that would serve the most avid off-road enthusiast well. But the 3.0-liter turbodiesel V6 adds more low-end torque for improved towing and acceleration. The diesel engine also gives you the best gas mileage at 28 MPG on the highway and 22 MPG in the city.
8. Chevrolet Colorado Duramax
The Chevrolet Colorado doesn't offer the most impressive interior or safety features, but it leads its class in towing capacity and is undeniably capable. The seats in the Colorado are perhaps the most comfortable in the segment, and drivers enjoy a comfortable ride and stable handling.
You can choose from three engines for this pickup, but the 2.8-liter turbodiesel four-cylinder (Duramax) gives you the best gas mileage. Producing 181 hp and 369 lb-ft of torque, the diesel engine produces 30 MPG on the highway and 20 MPG in the city; this engine is also required to achieve the maximum towing capacity of 7,700 pounds.
9. GMC Canyon Duramax
As with other Chevrolet and GMC models, the Colorado and Canyon share many strengths and weaknesses, including the 7,700 pound towing capacity. The Canyon is available with the same 2.8-liter Duramax and pairs with an eight-speed automatic transmission to produce 30 MPG on the highway and 20 MPG in the city. The Canyon is a good fit for those who like the Colorado but are looking for a slightly more upscale cabin and more intuitive tech features.
10. Hyundai Santa Cruz
Hyundai is still relatively new to manufacturing pickup trucks. The Santa Cruz belongs to a new segment of compact trucks built on unibody platforms. This truck shares a platform, powertrains, and interior features with the Tucson — its compact SUV sibling. Like the Tucson, the Santa Cruz gives drivers tons of standard features, a balanced ride, and an upscale cabin.
The entry-level Santa Cruz is the most fuel-efficient trim. It's powered by a 2.5-liter four-cylinder engine that produces 191 horses, 27 MPG on the highway, and 21 MPG in the city.
11. Ford Ranger
Unlike its rivals, the Ford Ranger comes with only one available engine. Fortunately, it's a great engine with plenty of punch. The 2.3-liter turbocharged four-cylinder engine pairs with a 10-speed automatic transmission and gives you 270 hp. You can expect 26 MPG on the highway, 21 MPG in the city, up to 7,500 pounds of towing, and a maximum payload of 1,860 pounds.
Where Do You Charge Your EV?
If you already own an electric vehicle (EV), you know a thing or two about fuel efficiency. But there are many challenges that come with EVs, the most significant perhaps being that many areas of the country don't have enough charging stations.
Excluding smaller towns, North Carolina offers many charging stations with more to come as the country's EV infrastructure improves. The best way to locate nearby stations is to use online resources like ChargeHub and PlugShare. We've listed some of the most popular supercharging stations in North Carolina below.
Winston-Salem
There are 15 public charging station ports within 15 kilometers of Winston-Salem city limits, including 14 Level 2 ports and one Level 3:
CWS

Publix #1475

Southeastern Center for Contemporary Art

171 4th Street East Inside Parking Deck
Greensboro
Greensboro offers 52 public charging stations within 15 km of the city limits. This includes 33 Level 2 and 19 Level 3 stations:
Greensboro, NC Supercharger

Walmart – Greensboro

Moses Cone Public Parking

Crown BMW
Statesville
The city of Statesville has 13 Level 2 ports, including:
Energy United

Iredell Memorial Hospital

Ingles Market

Classic Nissan – Statesville
Charlotte
Charlotte is North Carolina's most EV-friendly city, boasting 310 public charging stations within 15 km, about half of which are free to use. There are 267 Level 2 and 43 Level 3 stations. Here are some of the most popular ports in Charlotte:
Charlotte, NC Supercharger

Celgard

Thomas Avenue Public Lot

Ballantyne BP

RiverGate BP

Earp's BP – #2
Raleigh
Raleigh, NC has 205 public charging ports within 15 km, and 55% provide free charges. There are 178 Level 2 and 27 Level 3 stations:
North Hills

Sheetz

Wilmington Station Deck

Green Square Public Parking Garage
Charging Your EV When You Live in an Apartment
Driving an EV can be even more challenging when you live in an apartment and aren't able to simply plug in your car in the garage. More charging stations are becoming available to apartment dwellers each year, but unless you live in a major metropolitan area, you might need to think outside the box. Here are a few tips for charging your EV:
Find an EV-Friendly Apartment
First of all, evaluate your current living situation. If you've been wanting to switch apartment complexes, finding one with a charging station could motivate you to take the leap. After all, driving is a crucial aspect of your daily life, so it makes sense to live in a place where you can charge your car!
Talk to Your Landlord
The EV trend isn't going anywhere. Most landlords will eventually install charging stations on their properties, but you could potentially speed things up for your apartment complex by speaking with your landlord.
Companies like ChargePoint help property owners install on-site EV charging stations every day, and you could explain to your landlord how a port would benefit them and their tenants over the long haul. Tenants will be happier and the property will attract more renters.
Run a Drop Cord
If you run out of EV charging options at your apartment, consider running a heavy-duty extension cord from your charging port in your unit to your car. You might be surprised how easily you can snake a drop cord from your apartment to the parking lot. But keep in mind that you may not be able to achieve a full charge without enough voltage.
Use Your Office
If you commute to work, look for a charging station near your office. If your office has an EV charging port, even better. All you have to do is charge your car throughout the workday for a full charge!
Wrapping Up
Things are looking up for pickup truck enthusiasts who want more fuel efficiency. The models above will provide you with much better gas mileage than trucks used to offer, especially if you go with an electric or hybrid option.
Keep researching fuel-efficient pickups to determine which one best meets your needs and learn about the charging stations near you. And remember to connect with Mount Airy CDJRF to browse our wide selection of Rams, Jeeps, and other trucks!