Top 14 Jeep Wrangler Accessories for 2022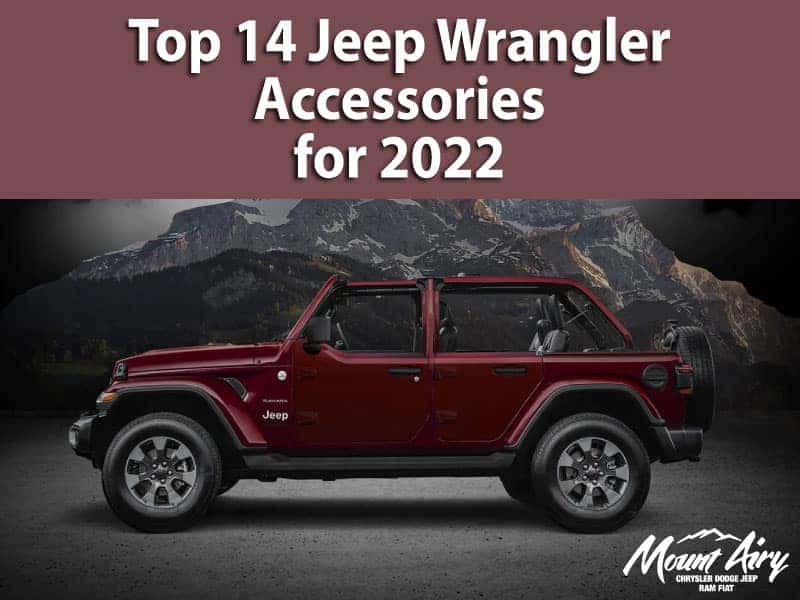 Few vehicles have as loyal a following as the Jeep Wrangler. For more than three decades, the off-road SUV has been well-loved for its ruggedness, performance, dependability, and many other qualities. Jeep doesn't redesign the Wrangler very often because it doesn't need to. The vehicle is currently in its fourth generation and consistently one of Jeep's top sellers.
All this to say that there is no substitute for a Jeep Wrangler. But that doesn't mean it's the perfect SUV for everyone straight from the factory. Many people see their Wrangler as a foundation for upgrades, which brings us to the point of this article:
If you want to upgrade your new or used Jeep Wrangler, hundreds of accessories are at your fingertips.
Sifting through all the products could be an overwhelming experience. But don't worry — Mount Airy CDJR put together a list of our 14 favorite Jeep Wrangler accessories available today!
1. Jeep Donut Doors
We'll start with a feature that could be offered soon by Jeep itself. Even casual onlookers can recognize the war between Jeep and Ford in recent years, with each making moves to reign in the 4×4 segment. With that said, the release of the highly anticipated Ford Bronco has fueled the flames even more. The latest skirmish is over doors.
You can get both the Wrangler and Bronco with half doors. And while Ford has been producing intuitive designs, there is a Jeep patent that has recently come to the surface, and it could put the Wrangler manufacturer back in the driver's seat: the donut door.
Few vehicles in recent history have been hyped up like the reborn Bronco before it launched last year. And one of the favorite features for fans was the donut doors that showed up in concepts and marketing materials. Unfortunately, those doors never actually made it into production, which disappointed a lot of people. Jeep is looking to step into that space and has published its own donut door patent for the Wrangler.
Stellantis stated that they had had the concept for more than three years. The minimally labeled "Automobile" patent includes several drawings of the donut doors with a brief description: "The ornamental design for an automobile as shown and described."
Donut doors appeared on a 2018 JL-body truck, but Jeep never produced the concept. And the doors in the new patent documents give a different look than those on the JL-body.
It is promising that Jeep has been experimenting with donut door designs for years, and now that the Wrangler-Bronco rivalry is peaking, we can expect a race to release these eye-catching door designs. The first manufacturer to deliver on their promise is bound to steal some fans!
2. Alien Sunshade Mesh Shade Top Cover
The Alien Sunshade Mesh Shade Top Cover can protect your passengers and interior as you enjoy the open air on the highway. You can get it in a range of styles and colors, as well as graphics (e.g., American, Texas, or Canadian flag). It's compatible with two- and four-door 2007-2017 Jeep Wrangler models.
This cover will even add a touch of luxury to your Wrangler by reducing wind noise, and it will go a long way in reducing UV exposure. It comes with woven PVC mesh, double-sewn edges, and durable metal grommets. And the best part? You don't need any tools or equipment for installation; all you have to do is attach the bungee cords to the roll bars for a secure fit.
3. Dewstone FreeForm Easy-Install Adventure Mirrors
If you want to add even more ruggedness to your Wrangler, these mirrors will do the trick. The name says it all: The Dewstone FreeForm Easy-Install Adventure Mirrors can be installed in minutes, and their vibration-dampening cross brace will increase visibility as you take the road less traveled.
Each mirror is 7.7 inches and features an Omni-directional joint for easy position adjustment. This product comes in a package of two and provides a complementary sticky dashboard mat that you can use to hold your smartphone, keys, or other valuables.
4. LX-LIGHT 7" Round Black Cree LED Headlights
Have you wished you had high-end LED lamps on your Wrangler? The LX-LIGHT 7" Round Black Cree LED Headlights are worth considering. This package provides two seven-inch headlights compatible with a range of Jeep models and H4 to H13 adapters for quick and straightforward installation.
DOT-approved, these shine brighter than competing brands and are IP67 waterproof-certified. Each light produces 4,500-lm high beams and 3,200-lm low beams with a 6,000K color temperature. What's more, you will get about 80,000 hours before these lamps burn out.
5. LX-LIGHT 4D LED Tail Lights
If tail lights are what you need, or if you find that you love the headlights above, you should check out the LX-LIGHT 4D LED Tail Lights. These high-quality LED lights include built-in EMC to prevent flickering. These lamps burn three times brighter than stock Wrangler tail lights. The IP67 waterproof-certified tail lights come in a package of two and offer 50,000 hours of life.
One of the best things about the LX-Light 4Ds is that you can use your existing circuit wires for easy installation. Whether you're driving, reversing, or braking, these lamps will get the job done at an affordable price.
6. XBEEK Tail Light Covers
Whether you're rocking stock or aftermarket tail lights, it's always good to add a level of protection for them. The XBEEK Tail Covers will do just that. These American flag covers are created with rust and debris-resistant aluminum alloy, and they're the perfect way to give your Jeep Wrangler a patriotic flair.
There's no need to drill holes for these covers. Each includes a 3M adhesive, which makes for fast installation and removal and keeps the covers secure in various conditions.
7. Smittybilt GEAR Black Front Seat Covers
If you want to make your interior unique while adding extra storage compartments, the Smittybilt GEAR Black Front Seat Covers could be the perfect solution. The adjustable covers are manufactured with 600D polyester and PVC, meaning they last for decades if properly cared for. Each seat comes with a seatback organizer for holding all kinds of items you might bring with you on an adventure in your Wrangler.
The GEAR Front Seat Covers come in coyote tan, olive green, or black, and they incorporate an American or Canadian flag emblem on the seatback (easily removed). You will also get seven storage pockets in various sizes. These covers fit all Jeep models, and as with anything made by Smittybilt, they are of the highest quality.
8. Bartact Seat Covers
The Bartact Seat Covers are a sportier option that form-fit to 2013-2017 Wrangler JKs. The two customizable pouches on each cover measure 8 x 7.5 x 2 inches; you can configure the covers and pouches however you like.
The Bartact Seat Covers are available in a black/coyote tan scheme and come in a package of two. One of the coolest aspects of these covers is that they offer two complimentary MOLLE system pouches for each seat. Plus, they are made in the USA, which is difficult to come by these days!
These covers are hard to beat if you want quality, durability, and aesthetic appeal.
9. Sunpie Center Console Armrest Pad Cover with Storage Bag
The Sunpie Center Console Armrest Pad Cover with Storage Bag is designed for specific 2011-2017 Jeep Wrangler models. It's made from neoprene and is perfect for pet owners. In fact, the top of the armrest features a Jeep paw prints logo!
The heavy-duty neoprene helps protect your armrest and only takes seconds to install. It also comes with a storage bag for conveniently storing your phone and other items. And since you can wash it, this armrest cover will last for a long time.
10. JeCar Mesh Cargo Net
If you're looking for a cargo wrap-around net that converts your Wrangler's roof into a hammock, this model by JeCar is an excellent choice. It's easy to install and offers a 220-lb weight capacity.
You can use the JeCar Mesh Cargo Net for additional storage space or for taking a rest on your trips. Measuring 61.5 x 19 inches, you can install this net without a hitch. Along with using the included reinforced Velcro tape, there are several other ways to install it.
11. Bestop All Weather Trail Cover
This vehicle cover was developed to protect the doors and cabin of a Jeep Wrangler. Made of waterproof fabric, the Bestop Charcoal Weather Trail Cover will shield your SUV from rain, wind, and extreme temperatures.
The cover is available in Charcoal/Gray and Spicy colors and weighs roughly 10 lbs. The BeltRail Channel System provides a snug fit, and you can quickly fasten the cover to your Wrangler with the adjustable nylon straps provided.
Some Jeep owners have used this cover without removing their soft-top or hardtop. However, you will need to gauge whether it fits too tight on your specific model. Most people take off their roofs for an ideal fit.
12. Bestop HighRock Under Seat Lock Box
This is perhaps the most discreet accessory on the list. The Bestop HighRock Under Seat Lock Box will seamlessly fit under the driver's seat of any 2007-2018 four-door Wrangler and 2007-2010 two-door Wrangler. It is made of 16-gauge carbon steel and finished with a textured black powder coat.
This lockbox will keep your valuables hidden and secure and comes with a pick-resistant cylinder lock. And because it only requires the factory seat riser bolts, it's a simple device to install. It measures 17 x 7.5 x 3.75 inches on the exterior and 16 x 5.75 x 2.78 inches on the interior.
The lockbox will not fit any two-door Jeep Wrangler models 2011 and above. But if you have a 2011-2012 Wrangler Limited, you can install it by making minor modifications.
13. Danti Roll Bar Grab Handles
Do you need to invest in some high-quality grab bars without breaking the bank? The Danti Roll Bar Grab Handles are worth considering. They come in standard and heavy-duty formats. You can get the standard grab bars in black, red, or blue, and the heavy-duty versions include the same options with the addition of camo.
These weather-resistant, non-slip handles will keep passengers safe on rough terrain, and you can install them in minutes with no tools. They're manufactured with canvas and ABS and are designed for 1995-2018 Jeep Wranglers.
14. ApolloIntech Overhead 6-Switch Pod / Panel
If you like taking your Wrangler on the road less traveled, you need an overhead switch panel. The ApolloIntech Overhead 6-Switch Pod/Panel is among the best on the market.
You can get this switch panel in a standard or pro version with blue, green, or red backlights. It's specifically designed for the 2007-2018 Jeep Wrangler models, and it features diodes to protect vulnerable components (like your new LED lights!) from field collapse.
The 6-Switch Pod/Panel fits many V-Series Contura rocker switch covers, including versions II through VII and XIV. This plug-and-play device will put out 100 amps and could be the perfect solution for your Wrangler.
Conclusion
The Jeep Wrangler is a one-of-a-kind SUV, and it has the following to prove it. But one thing that makes it so unique is that it can accommodate a wide range of upgrades and accessories.
If you're looking to make your Wrangler stand out from others, start your research with the products above. And don't forget to bring your vehicle into Mount Airy CDJR for some top-notch service!