The 2020 Chrysler Pacifica Plug-in: The Coolest Minivan Just Got Even Cooler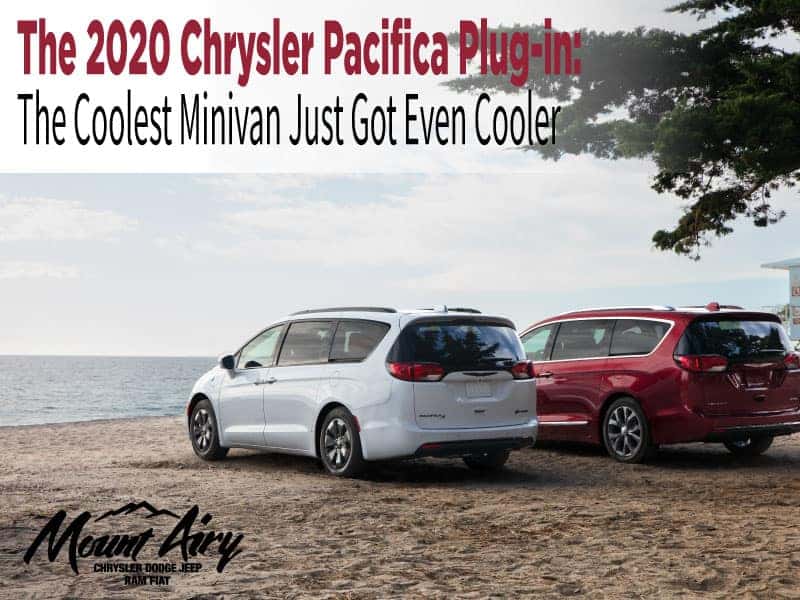 Minivan drivers, both young and old, are pleased as punch to hear of Chrysler's new electric Pacifica. The 2020 Chrysler minivan is the wave of the future and Mount Airy Chrysler Dodge Jeep Ram has everything you need to know about the best, new minivan on the market: the 2020 Chrysler Pacifica plug-in.
We may not consider the minivan to be an innovative vehicle, but upon first look at the all-new Pacifica, it becomes clear that something new is here. Not only does the 2020 Chrysler Pacifica look sleek and cool and new, but it also operates with an innovative power source—electricity! Though SUVs and Crossover vehicles have taken more of a front seat in terms of sales, a void has remained to be filled. There is just nothing better for hauling a family than a minivan, and with the 2020 Pacifica, Chrysler has breathed life back into and redefined what the modern minivan can be. The void has been filled and the minivan is back. And it's better than ever.
Why go electric? More on this later, but for starters, you can save a ton of money on fuel and maintenance by driving an electric vehicle. On top of that, it looks as though electric vehicles are the future of driving. In fact, companies like Lyft are requiring all their vehicles to be electric by the end of 2020.
Just imagine having only one thing to take care of with your car—keeping it charged. No gas, no grimy oil changes, no multi-speed transmission…the list goes on!
Check out the New With the 2020 Pacifica
The 2020 Chrysler Pacifica comes with a few new features this year: the grille comes in a honeycomb pattern, which freshens up the look. The Touring editing comes with a built-in garage door opener, as well as, one-touch second-row power windows (with sunshades). There's also a new Red S Appearance package that includes Rodeo Red Nappa leather upholstery (with Light Diesel Gray stitching and highlights) to dress-up the Pacifica even more.
Here are a few other new features to the 2020 Pacifica: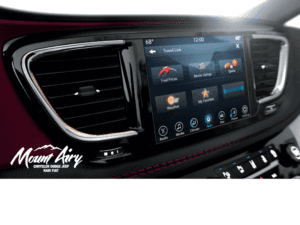 A black Chrysler badge with a Velvet Red insert
Black 18-inch alloy wheels
20-speaker Harman Kardon audio system
A three-pane panoramic sunroof
The UConnect Theater rear-seat entertainment system
The addition of Advanced SafetyTec Group
But the biggest innovation is, not necessarily the electric option (a similar feature, the plug-in hybrid, has actually been available for some time), but the push to use it. Modern innovation has created a better, safer, more responsible way to travel and it's time to embrace the future of driving.
What's So Special About the Pacifica?
The Chrysler Pacifica Plug-In was the first hybrid minivan to enter the North American market, which is pretty groundbreaking. Since it was a plug-in hybrid, the Pacifica had a larger battery than a standard hybrid vehicle and could travel in full EV mode. With the battery positioned where the Stow N' Go second-row seats were, the Chrysler Pacifica Plug-In almost retained the same level of practicality as its non-hybrid sibling, making the decision to go fully electric an easy one. A refreshed 2021 Chrysler Pacifica arrives later this year with a new Pinnacle trim with more luxury-oriented features, Uconnect 5 infotainment system, and optional AWD.
With its countless awards, excellent safety ratings, superior performance, and modern styling (The Pacifica is the best looking minivan on the road today)—plus the fact that it comes fully electric—why wouldn't any minivan buyer get a Pacifica? And that's not all. Here are some of the other key ingredients to the Pacifica's success: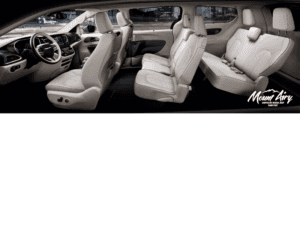 Second Row Adjustable Seats. Sure, just about every modern vehicle has adjustable seats, even in the back. But have you seen any that bend forward when holding a car seat? Probably not, since the Chrysler is only one of three other companies to offer this nifty little bonus. Chrysler's "Easy Tilt" rear bucket seats easily bend forward so children and adults alike can pile in and out without hassle. Imagine, no more stubbed toes or bruised knees when trying to move from the second to the third row. This little benefit is actually quite big.
Hands-Free Capabilities. What's one of the most frustrating things about running errands with the kids? You see it happen every day: a parent holding a child in one hand, bags of groceries in the other, fumbling to open the door to the vehicle. And some car companies have created a back hatch that opens with the push of a button or swipe of a foot. This is nice, but the 2020 Pacifica takes it a step further by including self-opening sliding doors. That's right, just hover your foot under the sliding door, and it magically opens on its own accord.
Equal Comfort Levels Throughout. Go ahead and try to find the most comfortable spot in the 2020 Chrysler Pacifica. As much as you move around, the only thing you'll find is that each seat is just as plush and roomy and the next. Typically, in minivans, it's the third-row seating that causes the most problems. Passengers are squished in the back with tiny seats that are hard, rigid, and just plain uncomfortable. But not in the all-new Pacifica. Now you have plenty of room, plus third-row passengers get their own USB ports and cup holders. Whereas before no one wanted to sit in the very back, now your family and friends will be racing each other for that third row.
Innovative Safety and Storage. The biggest risk with seats that bend forward is that they can pinch or even crush passengers' feet behind them when placed upright. But thanks to the Pacifica's cantilevered seat design this is no longer an issue. What Chrysler did is raise the seats a bit so that when they are bent forward or set upright, there is plenty of room underneath for feet to rest without having any contact with the seat in front. Another bonus to the cantilevered seats is that there is no extra space for storage. It's perfect for a backpack, sack of diapers, and even small groceries.
An Abundance of Latch Anchors. It is so annoying when attempting to install a car seat (or multiple car seats) and there are only a few places made to hold it. Most vehicles, including minivans, usually only have two or three seats equipped to hold a child's seat. The 2020 Chrysler Pacifica has up to five seating positions for a car seat, which means you can pretty much fit your child just about anywhere you want. The second row, third row, doesn't matter. The Pacifica is all about making things better and easier, especially for those driving with multiple passengers.
Entertainment For Everyone. Chrysler includes its UCONNECT Theater system in the new Pacifica, and this means fun for everyone inside. There are two touchscreens fully equipped with games, apps, and a Blu-ray/DVD player. And what's wonderful about UCONNECT is that it allows parents to control what the kids in the back are watching by including a "listen in" feature that, with a push of a button, shows on the front screen whatever is being watched or played in the back. Why doesn't every vehicle have this?! Just another example of why the 2020 Chrysler Pacifica is the minivan to beat.
Easy Cleaning. There is actually a vacuum cleaner built into the new Pacifica. The Honda Odyssey came out with this idea as well, but it's placed way in the back and is difficult to access. But the Pacifica's Stow & Vac system is placed right in the second row. This is a smart move since the second row is where most traffic comes and goes, which leaves particles behind. Once again, Chrysler makes things smarter and easier for us all.
True Luxury Means Authentic Materials. Rather than the faux wood paneling and cheap plastic pieces found in most other minivans, the 2020 Pacifica holds to its luxury roots. Look as long as you like, you won't find one piece of cheap material. From the thick leather seats to the soft-touch surfaces throughout, everything feels of true substance. This means you have luxury now, and you will have it years later as well. Doesn't sound much like a minivan, does it? That's because the 2020 Pacifica is a minivan in name only. Everything else is all about breaking the mold.
Stow & Go Assist Makes Things Easy. Chrysler's Stow & Go enables all seats in the back to fold down completely into the floor of the van. Gone are the days of having to lift the seats out of the minivan so you can haul furniture. Now, it's simple. The front seats even move forward automatically while the back ones are being folded in. Then, like magic, the front seats resume to their previous position.
Still not convinced the all-electric, 2020 Chrysler Pacifica is the minivan for you? Come see us and go for a drive, you are sure to be impressed.