The Ins & Outs of Building Your Work Truck Fleet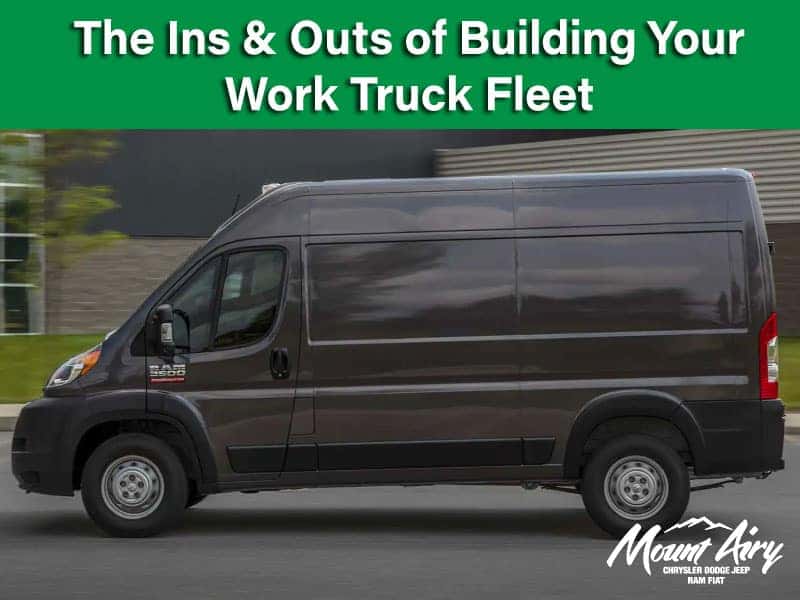 Every construction worker needs a reliable truck. As an essential piece of equipment, the right work truck can help you accomplish more in less time, keep your team safe, and even facilitate your projects. But with so many options, how do you know which model to choose? Is there a specific size, weight, and cab configuration that will suit you best? Should you go with two- or four-wheel drive? 
One thing's for sure: Your work truck needs to be tough, dependable, and able to navigate rough terrain. You'll need to consider your specific line of work and projects to fill in the rest of the details. Below, Mount Airy CDJRF will help you do just that!
Do You Need a Commercial Truck?     
Minor construction jobs may not require you to use a work truck, and you can probably get away with a smaller vehicle if most of your projects are lighter DIY jobs. But if you're taking on bigger projects and relying on your construction jobs for income, consider that work trucks are built for long hauls and rough terrain. They also come with higher towing and payload capacities.
If you lease a commercial truck for your business, you can take advantage of the Section 179 tax deduction for 100% of lease payments in the first year. Moreover, most work trucks are designed for customization to accommodate various vocational needs. Some workers convert their trucks into cement mixers, dump trucks, snowplows, delivery trucks, tow trucks, and more.
How Do You Know What Type of Truck to Buy?     
So, do you need to upfit your work truck to deliver heavy equipment, carry cement, or tow other vehicles? Will you be using your truck for long-distance trips or sticking around town? You must consider many factors when deciding what kind of work truck to purchase. 
Think about how much weight you'll need to carry and tow, and overestimate to be on the safe side. You'll also need to determine the gross combined weight rating (GCWR) and gross vehicle weight rating (GVWR). We'll talk more about GVWR below; GCWR refers to the truck's total weight with a fully loaded trailer.
Configuration is also crucial because it will dictate how many crew members can ride comfortably in a single truck, and it can also influence towing space in the truck bed. And you'll notice that most work trucks come with single rear wheels (SWR) or dual rear wheels (DRW) and a variety of drivetrains. All work truck classes are equipped with 4×2 or 4×4, impacting payload and towing capabilities:
• Rear-wheel drive (RWD)
• Front-wheel drive (FWD)
• All-wheel drive (AWD)
• Two-wheel drive (2WD, 4×2)
• Four-wheel drive (4WD, 4×4)
Finally, work trucks in all classes take either gasoline or diesel. And remember that any truck (or van) over a half-ton doesn't receive an EPA rating.
What Is Gross Vehicle Weight Rating (GVWR)?   
Every truck model is classified by GVWR, a safety standard that determines the maximum weight a truck can safely carry without overloading. GVWR is established by the manufacturer and factors in axles and other weight-bearing components as well as suspension, frame, body, tires, and other lighter elements. When setting the final GVWR, the manufacturer considers the vehicle's net weight, fuel, cargo, and passengers.
GVWR is one of the most critical classifications for work trucks because it dictates which class the vehicle falls under. And that class determines other regulations, such as the specific licenses drivers need for operating the truck.
Another common characteristic you'll see when shopping for work trucks is payload capacity. A half-ton work truck would conventionally hold up to 1,000 pounds in the cargo and passenger areas, a three-quarter-ton would hold up to 1,500 lbs, and a one-ton truck could carry as many as 2,000 lbs.
With that said, these payload classifications are more flexible than they used to be. It's common for a half-ton truck to be capable of carrying 3,000 lbs.
Best Work Trucks
Dependability and function are the most important factors when building a work truck fleet. You want to make sure your crew is able to get their job done efficiently and maintain your company's work quality.
It really comes down to quality, fuel efficiency, and technology. You don't want a truck with lots of fiberglass or plastic; a steel shell is crucial for preventing injuries and damage to your truck.  
You'll also want to evaluate each model's engine and horsepower while keeping an eye on its fuel consumption. More fuel-efficient work trucks are set to hit the market in the coming years, but try to find trucks that you won't have to constantly refill. It can also help to have GPS, steering assistance, rearview cameras, and other technologies to help your crew members drive and haul materials safely.
RAM 1500 Tradesman  
The 2022 RAM 1500 Tradesman comes with a 3.6-liter V-6 that produces 305 hp and 269 pounds-feet of torque. It starts at $33,975 MSRP and is equipped with an eight-speed automatic transmission and rear-wheel drive.
The 1500 Tradesman is designed with a unique stability feature that assists drivers hauling heavy equipment. You can use hill start assist and sway control to move the truck safely. It also provides special security features to protect both the driver and the truck itself. 
Crew members will have six airbags throughout the cabin and multiple cameras around the exterior to help with challenging parking and driving situations. The RAM 1500 Tradesman pickup features a thick steel frame and door beams, safeguarding drivers and passengers safe during heavy impacts. 
There are work packages and add-ons to consider for the 1500 Tradesman. The Max-Tow package ($895+) provides a Class IV receiver hitch, a full-size spare tire, a trailer brake controller, and power trailer-tow mirrors. 
Construction workers in colder regions might benefit from the Snow Plow Prep Group, which starts at $195 and is available for all 4WD Quad Cab 1500 trims; a power-sliding rear window and a 220-amp alternator are the main features. Furthermore, you can add the Protection Group ($195+) to 4WD Quad Cab Tradesman models and receive tow hooks and skid plates. 
RAM 1500 Laramie
The 2022 RAM 1500 Laramie is available only with the Crew Cab and starts at $46,600 (short-bed). The long-bed version starts at $46,900. This trim is a couple of steps up from the Tradesman and comes standard with genuine leather upholstery, a heated steering wheel, power-adjustable seats, heated and ventilated front seats, and other key features, including:
• Forward collision warning
• Forward automatic emergency braking
• Alpine premium audio system
• Apple CarPlay and Android Auto compatibility
• Satellite radio
• An 8.4-inch infotainment touchscreen
• Dual-zone automatic climate control
The 1500 Laramie short-bed comes with the RamBox, a useful storage compartment in the truck bed where you can keep and easily access your tools and equipment. Adding four-wheel drive will cost $3,500. You can include an air suspension for $1,805, a V-8 engine for $2,295, or a diesel engine for $4,995.  
There are a couple of packages to consider for the RAM 1500 Laramie. The Trailer-Tow Group($895+) includes a trailer brake controller, trailer reverse steering control, a Class IV receiver hitch, and a Wi-Fi hotspot, among other features. The Bed Utility Group ($350+) comes with a spray-in bed liner, a bed step, in-bed LED lighting and tie-down hooks.  
RAM 2500
The RAM 2500 is a heavy-duty work truck that's hard to beat regarding hauling, towing, and overall comfort. The 2022 versions feature a meaty 6.2-liter V-8 engine or a turbocharged diesel inline-six. It's also built on a stronger frame and has won many awards for its wide range of features and upgrades.
Your crew members will enjoy guided parking, lane departure warning, advanced airbag technology, and a plethora of other features with the RAM 2500. This truck is widely considered to be the best all-around heavy-duty truck in its class. The 2020 version received MotorTrendTruck of the Year, and the manufacturer has made some improvements for this model year. 
The truck's gas engine is superbly responsive, and the diesel I-6 offers 850 pounds-feet of torque. Moreover, this vehicle offers a best-in-class interior and suspension, offering superior ride quality for family road trips and short commutes to the lumberyard. And the RAM 2500 costs less than its Ford and GM competitors.
RAM 3500  
The RAM 3500 is essentially a beefed-up version of the 2500. It offers a 35,100-lb maximum towing and 7,680-lb maximum payload capacity. Similar to the 2500, the RAM 3500 beats its competitors in interior and ride quality. Your crew will get the same safety features as the 2500 to go with a high-strength steel frame.
The 3500 is an excellent option if you need more space and hauling capabilities. It won the 2020 MotorTrend Truck of the Year award for the same reasons as the 2500. The 2022 RAM 3500 comes with impressive tech features, such as a 12-inch display and additional driver assistance technologies. this model also comes in at a lower price point than its rivals. 
RAM 4500 Chassis Cab   
Need even more girth? You might consider going with the RAM 4500 Chassis Cab and its GCWR of 37,500 lbs. Equipping your crew with some of these bad boys will take your hauling capabilities to the next level. The 4500 comes standard with a 6.7-liter turbodiesel V-6 engine and a still rear frame strength of 50,000 PSI. 
It's tough to beat this truck for towing and other commercial purposes. It also offers front and rear park assistance, automatic emergency braking, adaptive forward lighting, and many other driver assistance technologies. And did we mention that it has a best-in-class interior and exterior? The RAM 4500 is also one of your top choices for upfitting.
RAM 5500 Chassis Cab
The other top choice for upfitting your rig is the RAM 5500 Chassis Cab. This is simply the best pickup truck on the market when it comes to hauling and towing capabilities. And it's not even close.
The 2022 RAM 5500 comes with a 6.4-liter HEMI V-8 engine and a flat frame that facilitates a wide range of applications. Designed for ultimate fuel efficiency, the 5500 will go 10,000 miles on gas between oil changes while the diesel versions will go 12,000 miles. 
Drivers get adaptive cruise control, automatic emergency braking, front and rear park assistants, and adaptive forward lighting, among many other safety features. Both the 4550 and 5500 will provide your team with out-of-this-world hauling, towing, and upfitting capabilities. It really comes down to precisely how much power you need.
Conclusion  
As with any line of work, you must have the proper equipment to get the most from your construction jobs. By equipping your crew with the right work trucks, you can ensure everyone is able to save time, minimize risks, and uphold the work quality your company is known for.
There's no shortage of work trucks on the market, but those offered by RAM are better than the competition in nearly every category. Determine the towing, hauling, and upfitting capabilities you need, and invest in pickups that will get the job done. As always, connect with Mount Airy CDJRF to see what we have on the lot and learn about our special service deals!