2015 Chrysler 200: Reward in Refinement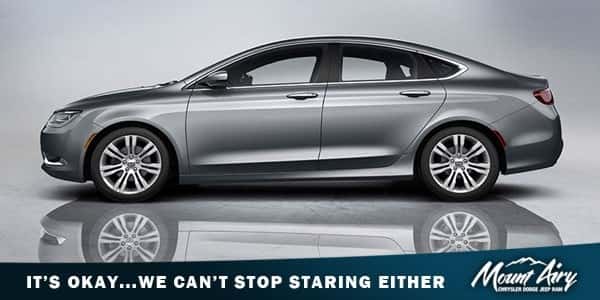 The 2014 Chrysler 200 was a success, proving itself a leader in design and performance among today's midsized sedans. This year Chrysler has refined those things that garnered it such success—things like quick acceleration and good fuel economy. And these changes make the venerable 200 even more desirable than before.
The process of making this good sedan great started with the engine. Last year's 4-cylinder has been beefed up with 184 hp and 173 lbs of torque. And the V-6 has risen to 295 hp and 262 lbs of torque—making both engines quicker off the line and cheaper at the gas station. An added bonus to the upgraded engine is the new Torque Management System that allows for the car to switch into all-wheel drive on its own. It does this by sensing changes in the surface of the road and adjusting by transferring torque to all the wheels when needed. This works very well with wet or icy roads, keeping you safely moving along.
The thought put into this vehicle is stunning. From the exterior's sleek curves, to the metal used in the suspension (high-pressure, die-cast aluminum—a lightweight metal that keeps from vibration), every aspect has been critically examined and made to function the best way possible. Just take it for a drive and feel the difference in the 200 compared to other midsized sedans.
It's fast and it's fun to drive. And it looks really good. The 2015 Chrysler 200 model has been sculpted to the shape and style of the 1960s Chrysler coupes, putting its own unique spin on a classic look. The front LED daytime running lamps give off a sleek, modern look, while the ergonomic body rolls back with long lines and perfect Porche-like curves leaving you wondering whether you just purchased a luxury sedan or a high-performing sports car.
-Andrae Bergeron