2015 Jeep Patriot: The Crossover with a Kick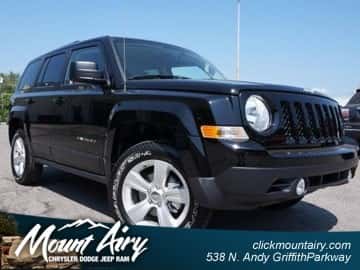 The 2015 Jeep Patriot has advanced annually, as Jeep has done a wonderful job at adjusting, adding, and upgrading aspects on all scales. This tough crossover comes optional with front-wheel drive or two varying all-wheel drive setups. So if you plan to stay on the straight and narrow you can opt for the front-wheel. But if you prefer to get a little dirty, to create your own road, the all-wheel drive will keep you moving. An added bonus is the 158-horsepower, 2.0-liter four-cylinder engine that performs as well as (if not better than) many six-cylinder engines, yet saves you with infrequent stops at the gas station.
Right now at Mount Airy Chrysler Jeep Dodge Ram you can finance the new Jeep Patriot for as low as 0.9% APR for up to 36 months.  With up to a $500 cash allowance on certain models this is a deal you can't pass up. So why not come in and see what the 2015 Patriot has to offer?
Another reason to consider the Jeep Patriot is its plush features, both inside and out. In essence, Jeep has borrowed some segments from the body style of the Wrangler and a few fine features from the Compass to morph them into a splendid crossover with attitude. The interior itself is roomy and very useful. Its tough surfaces are sturdy and easy to clean. The rear seatbacks flip forward to create extra storage space for stowage of life's necessities.  It can comfortably carry camping gear, sports equipment, you name it. From inside, it's hard to believe the Patriot is a compact vehicle. However, from the exterior point of view, it is easily parked in the tightest of spaces and you never feel like you are hogging the road.
The best of the crossovers resides in Mount Airy. Come check one out today.