2016 Jeep Wrangler: A Wonder of Versatility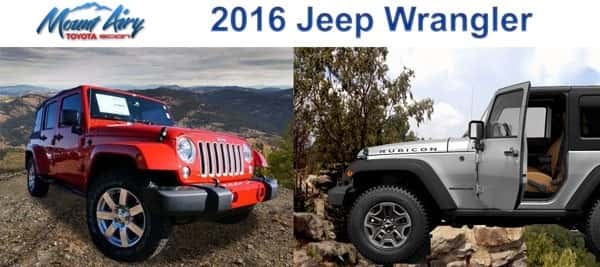 Looking for a versatile vehicle in Mt Airy? Nothing beats the 2016 Jeep Wrangler.
The Jeep Wrangler is nothing less than a masterpiece of evolution. What began as a military vehicle, able to withstand tough terrain and harsh elements has now become one of the most versatile vehicles on the planet. Just as easily as it transported military equipment through mud and sludge, it now hauls families and friends for fun off-roading adventures. But the biggest change in the 2016 Jeep Wrangler is how if performs on the open road. Smooth, sleek, and powerful. The 2016 Jeep Wrangler has managed to add a little luxury to this once bare-boned machine.
It's hard not to want one when you see a shiny new 2016 Jeep Wrangler cruising down the road. With its wide wheel flares, smooth flat sides, and seven slot grille, it looks pretty tough. Little changes to the Jeep Wrangler have been made throughout the years, but that wide frame and boxy structure will always remain.
The performance of the 2016 Jeep Wrangler is unmatched. All Wranglers now run on a 3.6-liter, V-6 engine. This new engine provides up to 40 percent more power and 10 percent more torque than the previous engine did. So if you thought your old Wrangler was tough, just wait until you take the 2016 Wrangler model for a drive. And though the 2016 Wrangler has much more punch, it still gets 17 mpg city and 21 mpg highway. Not bad for something so muscular.
Due to the fact that the 2016 model is a bit longer, the new Wrangler provides ample head and leg room. Inside there are two rows of seating. And, if you go for the Unlimited model, there is more than enough room for family and friends to join in on the fun.
As the weather gets warmer in areas like Jonesville VA and Floyd VA and the urge to take the top down or the doors off hits, you know it's time to visit Mount Airy Chrysler Jeep Dodge Ram. Don't miss the fun you can have this season with a new 2016 Jeep Wrangler.
Mount Airy Chrysler Dodge Jeep Ram is only 1 hour away from Floyd Va and only 3.5 hours from Jonesville. We promise to make it worth the drive.
Written by Andrae Bergeron
CCP Web Design writer
Mount Airy Chrysler Dodge Jeep Ram contributor