2022 Jeep Grand Wagoneer: It's Here, and It Just Might Be the Nicest SUV Ever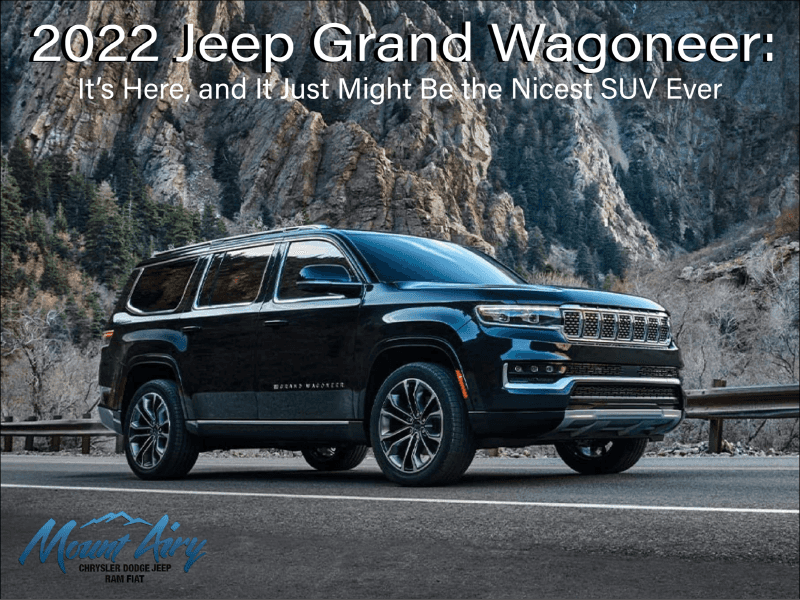 Most, if not all, vehicles have at least one competitor that serves as a fair comparison. That's not the case with the 2022 Grand Wagoneer. The revived nameplate of Jeep's full-size luxury SUV is in a league of its own. There is simply not an SUV—or vehicle, for that matter—today that it compares to.
From the stunning cabin materials to the 23-speaker McIntosh sound system to the uber-smooth ride and handling, the new Grand Wagoneer has exceeded expectations and gives drivers everything they have wished for over the past 30 years. It will be arriving at dealerships soon, so Mount Airy CDJRF thought it appropriate to discuss the 2022 Jeep Grand Wagoneer in more detail!
Performance Features
The 2022 Grand Wagoneer excels in almost every category, including performance. Let's take a closer look at the engine, ride, handling, and other factors that make this large SUV such a beast!
Powertrain
A 6.4-liter V8 engine motivates the Grand Wagoneer with 471 horsepower. The beefy engine is matched with an eight-speed automatic transmission with a silky and timely response.
Given the size of this SUV, you might be shocked by how energetic the V8 feels. Whether you're trying to merge onto the highway, accelerate from a stop sign, or pass the driver ahead of you, the Grand Wagoneer is surprisingly quick. In fact, you can take the SUV from zero to 60 mph in 5.7 seconds and to a quarter-mile in only 4.1 seconds at 99.1 mph. It leads the class in that category.
Ride and Handling
The Grand Wagoneer feels substantial in a wide range of driving situations. Though massive, it's also pleasant to drive. If you were judging it by drivability and not size, you might think the SUV is more of a smaller crossover. It is even easy to maneuver in the city and in parking lots.
It's not a sporty vehicle by any means, but the Grand Wagoneer keeps its composure around corners and bends. And the suspension system is exceptional; drivers get a cushioned ride whether the road is smooth or rough.
Towing and Fuel Economy
The maximum towing capacity for the Grand Wagoneer is 9,850 pounds. Drivers get standard Trailer Sway Control, which goes a long way in securing your trailer in various road and weather conditions. You can opt for a trailer brake controller as well.
Perhaps the only downside of the Grand Wagoneer is that it only provides 13 mpg in the city and 18 mpg on the highway. But when you consider the plethora of perks this vehicle offers, you might be willing to overlook the subpar gas mileage.
Off-Road Capabilities
It may be a luxury SUV, but the Grand Wagoneer can hold its own off the beaten path. Standard performance features include a two-speed transfer case, a limited-slip differential, a terrain management system, hill descent control, rear load-leveling, and an adaptive air suspension system—all of which come together to give drivers impressive off-road capability. The full-size SUV can drive through two feet of water too!
Interior Quality
Competitors must be drooling over the 2022 Grand Wagoneer's cabin. In a word, it's stunning. There are simply no other large SUVs that come close regarding the elegance and style of the Grand Wagoneer's interior.
Cabin Materials
Top-shelf materials adorn the cabin from top to bottom. Lush soft-touch surfaces combine with the Wagoneer's iconic wood grain accents to form a breathtaking interior.
Luxury Tech
The Grand Wagoneer leads the class when it comes to its infotainment system. But there's a caveat; there are many features and displays, so it may take you a little time to learn your way around the system. But once you do understand it, you'll love it. Jeep's Uconnect interface is among the most intuitive on the market, and you'll enjoy how easy-to-see and responsive the touchscreen is.
The front passenger seat comes with an interactive display that allows you to employ four different functions. You can control navigation and devices with the Co-Pilot feature and entertainment through the Rear Seat Entertainment control or HDMI.
You can also manage the Fire TV for Auto and monitor the vehicle's exterior cameras. Additionally, the front and rear-passenger displays allow you to connect your phone with an HDMI cable, which you can then mirror to the primary infotainment touchscreen.
All Grand Wagoneers come standard with a 12-inch touchscreen, navigation, satellite radio, HD Radio, several USB ports, Bluetooth connectivity, a Wi-Fi hotspot, and a 19-speaker McIntosh sound system. Drivers also get a wireless charging pad and Apple CarPlay, Android Auto, and Amazon Alexa compatibility.
If you want to take your Grand Wagoneer comfort to absurd levels, you can opt for a 23-speaker McIntosh sound system as well as a dual-screen rear-seat entertainment set-up and interactive front passenger display. Also coming standard are the 12.3-inch digital gauge cluster, a 10.25-inch second-row display, remote start, quad-zone automatic temperature control, and a panoramic sunroof.
Cargo Space and Seating
Technology is not the only thing that makes the Grand Wagoneer such a comfortable SUV. There are 27.4 cubic feet of cargo space behind the third-row seats and 70.9 cubic feet when you fold those seats down. Fold both the second and third rows down, and you will get a maximum capacity of 116.7 cubic feet. Those numbers best all domestic competitors by up to 16.4 cubic feet.
Seven adults can comfortably ride in the Grand Wagoneer in the standard configuration with captain's chairs in the second row. If you opt for a second-row bench seat, you can easily haul eight passengers. The seats themselves are exceptionally cushioned and supportive, and you will enjoy superb sightlines from the driver and passenger seats.
Another thing that sets the Grand Wagoneer apart from its rivals: There is plenty of legroom and headroom in all three rows, leaving plenty of space for tall adults to stay happy on long hauls. Furthermore, drivers can get a front-seat massage feature that many enthusiasts claim is superior to that of the Rolls-Royce Cullinan Black Badge.
Safety Features
The National Highway Traffic Safety Administration (NHTSA) and the Insurance Institute for Highway Safety (IIHS) have not crash-tested the 2022 Jeep Grand Wagoneer. But we do know that the SUV comes with state-of-the-art driver assist features, many of which are standard. Here are some of the technologies that come with every Grand Wagoneer model:
• Adaptive cruise control
• Automatic emergency braking
• Forward collision alert
• Head-up display
• Rear cross-traffic alert
• Blind-spot monitoring
• Rearview camera system
• Front and rear parking sensors
• Lane keep assist
• Surround-view parking cameras
• Park assist (perpendicular and parallel)
If you go for upgrades, you can also get features like night vision assist, intersection assist, driver drowsiness alert, a digital rearview mirror, and more. Jeep really outdid itself in the safety department with this model!
By the Series
Drivers can choose between four trims with the 2022 Grand Wagoneer. The Series I, Series II, Obsidian, and Series III all provide a 471-hp 6.4-liter V8 engine, an eight-speed automatic transmission, and four-wheel drive. You really can't go wrong in any trim you choose. The base model is feature-rich, and the higher trims offer a few more features and subtle styling touches.
Grand Wagoneer Series I
Starting at $86,995 MSRP, the Grand Wagoneer Series I comes with features unmatched by any other competitor base model. Here are just a few of the many standard features drivers can expect:
• Napa leather seats
• Heated and ventilated front seats
• Massaging front seats
• Heated second-row seats
• Remote start
• Tri-pane panoramic sunroof
• Quad-zone automatic temperature control
• 12-inch infotainment touchscreen
• Navigation
• Bluetooth, Amazon Alexa, Apple CarPlay, and Android Auto compatibility
You can add more entertainment if you opt for the Rear Seat Entertainment Group, and the Convenience Group will provide additional driver-assist technologies.
Grand Wagoneer Series II
The Grand Wagoneer Series II comes in at $93,995 and adds Palermo leather seats, traffic sign recognition, driver drowsiness monitoring, and a digital rearview mirror. Many of the add-ons from the base trim are available, such as the Heavy-Duty Trailer-Tow package, the Rear Seat Entertainment Group, and the 2nd-Row Seating Group.
A few unique features in the Convenience Group for the Series II include a rear-seat monitoring camera, night vision assist, and intersection assist. Drivers who pay for the Premium Group will get ventilated second-row seats and the 23-speaker McIntosh sound system.
Grand Wagoneer Obsidian
Starting at $98,995, the Grand Wagoneer Obsidian features unique styling elements. The 23-speaker sound system, a front passenger interactive display, and ventilated second-row. The Premium Group features come standard in the Obsidian; other than that, the same option packages as the Series II are available for the Obsidian trim.
Grand Wagoneer Series III
For $103,995, you can get the top-dawg Grand Wagoneer Series III. This beast has all the features listed above and adds a refrigerated center console, night vision assist, intersection assist, and a rear-seat monitoring camera standard. Drivers can opt for the Heavy-Duty Trailer Tow, 2nd-Row Seating, and Convenience packages. All things considered, the Series III could be the single most luxurious large SUV on the market.
Grand Wagoneer vs. The Competition
When you're in the market for a big premium SUV, you must find one that meets your and your family's needs. The vehicle should offer plenty of style, grace, and capability. The full-size SUV class is super competitive, which is why we've touched on some of the Grand Wagoneer's rivals to help you narrow down your options!
Grand Wagoneer vs. Lincoln Navigator
The Lincoln Navigator runs on a 3.5-liter twin-turbocharged V6 engine (450 hp) with a 10-speed automatic transmission. The Grand Wagoneer beats out this engine with its 6.4-liter V8 that pushes 471 horses. Also, the Navigator falls short in off-road capability and interior luxuries. Not only do you have to buy the top trim (Black Label) to get standard leather upholstery, but there are fewer standard and available tech and safety features.
Grand Wagoneer vs. Cadillac Escalade
The Cadillac Escalade's engine is even less potent than the Navigator's. The 6.2-liter V8 provides 420 hp and pairs with a 10-speed automatic transmission. While the Escalade offers a smooth drive, it lacks in the acceleration department with a zero-60 of 6.6 seconds (much less impressive than the Grand Wagoneer).
There's no getting around that the interior of the Escalade is premium. It includes an OLED touchscreen with excellent graphics, and the modern leather upholstery is a nice touch. But there are lower-quality plastics throughout the cabin that you won't find in the Grand Wagoneer. In that regard, it almost doesn't feel right to compare the Cadillac Escalade to the Grand Wagoneer! The latter boasts the most luxurious cabin in the class with gorgeous wood trim, supple leather, and top-spec materials.
Conclusion
Jeep fans have long anticipated the return of the Grand Wagoneer. After a 30-year dormancy, the iconic nameplate has stormed back onto the scene and appears like it's not taking any prisoners! The luxury full-size SUV manages to invoke elegance, style, and uncompromised power—all in one package. If you would like to see the 2022 Grand Wagoneer in person or arrange a test drive, call Mount Airy CDJRF or visit our website today!