8 Reasons to Buy the 2020 Chrysler Pacifica for Your Family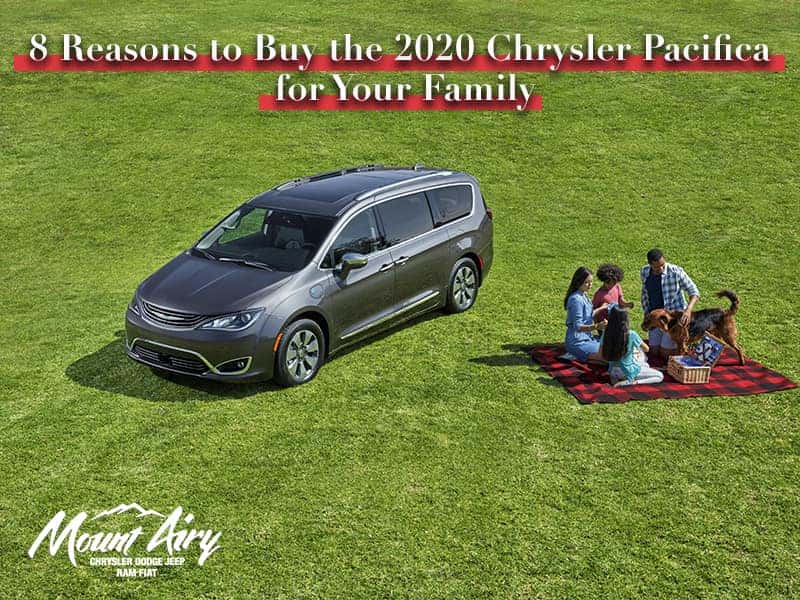 The minivan market is set apart in many ways from the rest of the automotive market. Where sedans, SUVs, pickup trucks, and other types of vehicles tend to appeal to consumers primarily through exterior styling, performance and fuel economy, people who buy minivans are typically more concerned with characteristics like safety, roominess, and comfort.
That leads us to what may be most impressive about the 2020 Chrysler Pacifica. Yes, it's safe; actually, it's among the safest in its class. And yes, it's roomy and comfortable. However, the Pacifica also stands out for its exterior and interior appearance, as well as its performance and fuel efficiency, among other things.
The truth is, the Pacifica delivers a remarkable blend of style and function, and you would be hard-pressed to find a better all-around family vehicle. Maybe that's why it has been the most-rewarded minivan for three straight years, including "2019 Family Car of the Year" by Cars.com and a Consumer Guide "Best Buy" for the last four years.
Here are eight reasons why families should consider the 2020 Chrysler Pacifica:
It's really safe
The safety ratings from the National Highway Traffic Safety Administration (NHTSA) for the 2020 Pacifica are nearly perfect. The tests resulted in a five-star overall rating (highest possible), five stars in the frontal and side crashes, and four stars for the rollover. These ratings tie the Pacifica with the Honda Odyssey for safest minivan on the market.
Aside from the crash tests, the Pacifica boasts a plethora of standard and available safety features. For instance, buyers can expect these features to come standard:
ABS brakes
Stability control
Seatbelt pretensioners
Security system
Child safety locks
Rear-view camera
Rear parking sensors
Rear cross-traffic alert
Blindspot monitoring
Buyers also have the option for many upgrades, such as automatic emergency braking, surround-view parking assistance, automatic high-beam lights, front crash prevention, lane departure monitoring, parallel parking assist, and adaptive cruise control. It's also worth mentioning that, when equipped with front crash prevention and automatic high-beam lights, the Pacifica was named by the Insurance Institute for Highway Safety (IIHS) a "Top Safety Pick."
In other words, Pacifica's safety ratings and features can provide you with peace of mind and confidence as you drive your little ones around.
It can seat eight
The standard configurations of most of the Pacifica trim levels seat seven passengers. However, all trims can be upgraded to seat eight passengers for $595. A $495 bundle including eight-passenger seating and a dual-pane sunroof is available for the Limited trim.
Also available as an upgrade is the Stow 'n Go Seating and Storage System, which is the only system of its kind. Rather than having to completely remove the seats from the second and third rows, as is required with other minivans in its class, the Pacifica's Stow 'n Go seats easily fold into the floor. This allows you to quickly add tons of storage space, and you don't have to store your seats anywhere! Furthermore, you can slide the Stow 'n Go seats forward to access in-floor bins for even more storage.
It's easier to keep clean
While the Stow 'n Go seats bring an SUV-like quality to the Pacifica, there's another feature that sets the minivan apart from others in its class: the "Stow 'n Vac." This built-in vacuum, manufactured by Ridgid, is discreetly tucked into the side panel of the second-row and can extend to every corner of the cabin. It's really easy to use, and it quickly picks up light and medium-sized debris. The Stow 'n Vac is standard on the Limited trim.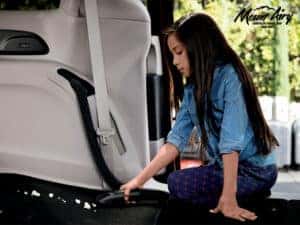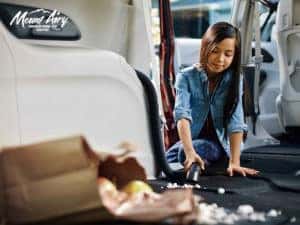 It's comfortable
When it comes to comfort, the Pacifica does not disappoint. The front seats provide plenty of legroom and headroom, with 41.1" and 40.1," respectively. The second row is also sufficient, with 39" of legroom and 39.6" of headroom. The third row provides 36.5" of legroom and 38.7" of headroom, which makes for a snug fit for average-sized adults but is perfect for petite individuals and children. Plus, the seats themselves are uber-comfortable, whether you go with cloth or leather upholstery.
Optional on the Pacifica is powered front passenger seats, heated and ventilated front seats, heated second-row seats, heated steering wheel, and powered third-row seats that fold down. These features—combined with a smooth, quiet ride, refined handling, and a class-leading Uconnect infotainment system—make the Pacifica a go-to vehicle both for long road trips and quick drives around the town.
It looks distinguished
Another area where the 2020 Chrysler Pacifica seems to outdo the competition is its appearance. The minivan is beautiful both inside and out. When you see the Pacifica pulling up, there's no mistaking it for any other vehicle. It's sleek, clean, and distinguished. It emits a good deal of attitude, especially for a minivan, though it also maintains a sense of elegance. Whichever trim level you go with, the Pacifica looks more like a luxury vehicle than a conventional minivan.
The inside is perhaps even more impressive. In a word, it's handsome. But the Pacifica's interior not only looks the part—the high-quality materials used to construct its polished design fit seamlessly together, all of which come together for an upscale cabin that rivals even the most luxurious vehicles on the market. Additionally, with its expansive windows, the cabin provides remarkable views of the outdoors. And it has enough cubbies, cupholders, and slide-out bins to keep everyone happy.
It has refined performance
The 2020 Pacifica also impresses when it comes to performance. Every trim level comes with a 3.6-liter V6 engine that produces 287 horsepower and gets you to 60 mph in 7.3 seconds. This engine is paired with a nine-speed automatic transmission. The only exception is the Pacifica Hybrid, which adds two electric motors and a 16-kWh lithium-ion battery to the 3.6-liter V6 engine and reaches 60 mph in 7.8 seconds. All the Pacifica models (non-hybrid and hybrid) feel considerably lively on the road.
The fact that the Pacifica provides a smooth and quiet ride may not necessarily set it apart from the rest of the class. However, it's probably the most agile minivan on the market. It has exceptionally responsive brakes, precise steering, and minimal body lean—all of which help it feel notably secure around turns.
It offers above-average fuel economy
Along with impressive performance, the 2020 Pacifica is among the top of its class for fuel-efficiency. The non-hybrid trims come in at 28 MPG highway, 19 MPG city, and 22 MPG combined. As can be expected, the Pacifica Hybrid offers even better fuel economy with 30 MPG combined and 82 MPGe (miles per gallon equivalent). In short, the Pacifica can provide better fuel economy than some SUVs.
It comes with significant 2020 updates
While there hasn't been a complete overhaul of structure or style with the Chrysler Pacifica since it replaced the Town & Country nameplate in 2017, there are some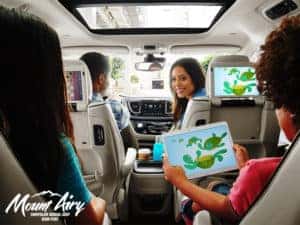 notable new features offered for the 2020 models.
Along with simplifying its lineup (which we will discuss below), the 2020 Pacifica comes with an optional "Red S" package for an additional $3,995. Buyers of the Pacifica Limited can opt for the package, which showcases two-tone Nappa leather seats (red and black) with light gray stitching and a sporty "S" stitched onto the front buckets. The Red S Edition also comes with custom 20-inch wheels, shiny black accents on the exterior, custom silver trim on the doors and gauges, a 20-speaker Harman Kardon audio system, and a Uconnect rear theater system. This package definitely adds some flare to the family-friendly vehicle.
Additional features new to 2020 include a dual- or tri-pane panoramic sunroof, eight-passenger seating, black control panel bezels, and Ceramic Gray exterior finish.
The Pacifica Trims
Chrysler made some changes to the Pacifica lineup for 2020. What used to be the Pacifica L and LX are now a separate vehicle named the Chrysler Voyager, which is basically an economy version of the Pacifica. For 2020, there are four trim levels available for the Pacifica: Touring, Touring L, Touring L Plus, and Limited.
The Touring
Starting at $33,495 MSRP, the base model Touring is a solid choice. It comes with a lot of standard features and can be outfitted with several configurations. As previously mentioned, the Touring comes standard with a rear-view camera, rear parking sensors, rear cross-traffic alert, and blindspot monitoring. Other standard features include:
Six-speaker audio system
Uconnect infotainment system
Apple CarPlay and Android Auto
Bluetooth connectivity
7" touchscreen
Satellite radio capability
One USB port
Tri-zone automatic climate control
Remote start
Alloy wheels
Powered driver's seat
There are two primary upgrade packages available on the Touring. The Uconnect Theater with Wireless Streaming package is an additional $2,395, and it provides HD radio, an 8.4" touchscreen, two 10" seatback touchscreens, and three additional USB ports. The Cold Weather Group package adds a heated steering wheel and heated front seats. Furthermore, if you don't have a sunroof, you can add an overhead DVD player for $995.
The Touring L
The base price for the Pacifica Touring L is $36,745, and it comes with the Cold Weather package, as well as perforated leather seats and grocery bag hooks on the backs of the third-row seats. For $895, you can opt for the Premium Audio Group package, which includes a powered front passenger seat, 13-speaker Alpine audio system, 8.4" touchscreen, and additional USB charging ports in the second- and third-rows.
The Touring L Plus
Coming in at $39,545, the Pacifica Touring L Plus comes with many of the same features as the Touring L. However, the Uconnect Theater with Wireless Streaming package comes standard. Also standard are heated second-row seats, a WiFi hotspot, and a navigation system. Additionally, buyers of the Touring L Plus can opt for a 20-speaker Harman Kardon audio system for $695, as well as hands-free powered sliding doors and a hands-free liftgate.
The Limited
As can be expected, the $44,445 Pacifica Limited is loaded with much of Chrysler's best. Though it doesn't come stock with the Uconnect Theater with Wireless Streaming package, it is available as a $1,995 upgrade. Nonetheless, the Limited does include the hands-free powered sliding doors and a hands-free liftgate. Nappa leather seats, ventilated front seats, a tri-pane sunroof, and Chrysler's Stow 'n Vac also come standard.
The Pacifica Hybrid
The 2020 Chrysler Pacifica Hybrid retails from $40,245 to $45,800 and is offered in three trim levels: Touring Plus, Touring L, and Limited. The Pacifica and Pacifica Hybrid models are similar when it comes to safety, comfort, looks, and performance. Whether you should opt for a non-hybrid or hybrid version really depends on how important fuel efficiency is to you, as the Pacifica Hybrid leads the minivan market at 30 MPG combined and 82 MPGe. However, it doesn't come with an eight-passenger option.
If you're looking for a great all-around vehicle for your family, it's hard to beat the 2020 Chrysler Pacifica. It's as safe a vehicle as you will find. It wins at style, it wins at function, and it has tons of standard features. If you would like to see for yourself, be sure to come by our dealership for a test drive!