Ram Revolution: 2024 Ram Electric Truck to Debut This Fall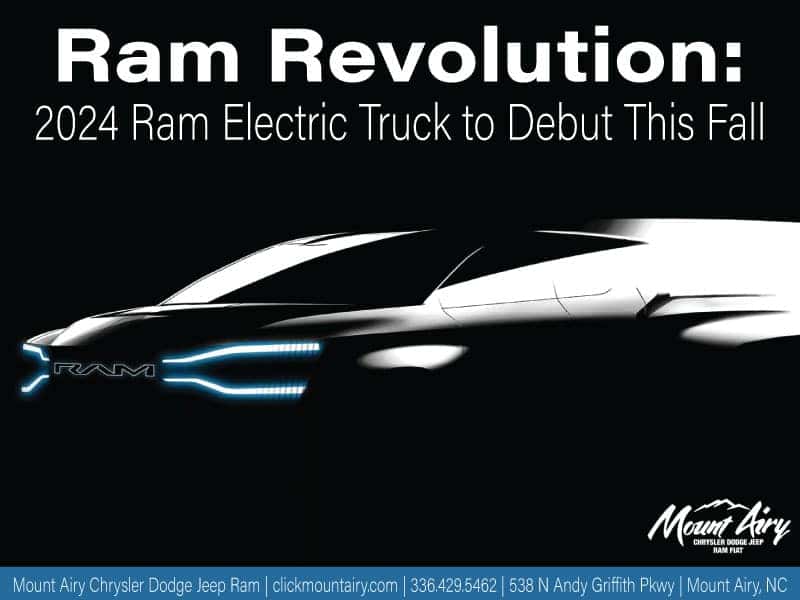 Demand continues to grow for electric vehicles, with nearly every major automaker taking significant steps towards an all-electric future. Electric compact cars have been rising in popularity for years, and trucks are beginning to hit the market one by one.
The Tesla Cybertruck has already garnered about 1.5 million reservations while the Ford F-150 Lightning and Chevrolet Silverado EV are sitting on 200,000 and 140,000, respectively.
Ram has taken a bit longer to develop its electric truck, but from what we can tell, it's going to be well worth the wait.
Fans have been seeing concepts and learning about the 1500 EV development since early 2022 through the Ram Revolution marketing campaign. And the brand recently announced it will debut the truck by fall. Below, Mount Airy CDJRF shares everything we know about the Ram 1500 EV and explains why now is the ideal time to bring your current vehicle in for service.
What Is Ram Revolution?
Ram Revolution is a marketing campaign Stellantis launched earlier this year. Along with sharing concepts and information, the platform allows enthusiasts and customers to provide opinions and ideas on new vehicle developments.
All you have to do is sign up on the Revolution website to get involved. The brand takes fan input from its "Ram Real Talk" events into account when upgrading its lineup. Ram CEO, Mike Koval, stated that engaging with fans and receiving valuable feedback through the campaign will allow the brand to "deliver the best electric pickup truck on the market with the Ram 1500 EV."
Ram announced in April that the all-new 1500 EV truck will debut in the fall of this year. Koval has expressed how the ideas from its Ram Real Talk are shaping the Ram 1500 EV concept. We can expect to see an evolved, refined version of the concept roll into dealerships in a couple of years.
The first Ram EV (Electric Ram Promaster) is coming in 2023, with the 1500 EV arriving in 2024. The brand has guaranteed a launch in all of its segments, though it hasn't committed a specific number of electrics they will release by 2030.
Reservations for the Ram 1500 EV
Ford and GM are allowing customers to reserve electric trucks 12-18 months before initial deliveries. Stellantis CEO, Carlos Tavares, has indicated that customers should be able to reserve the 1500 EV well before production. But the brand is yet to provide a specific time frame.
Tavares has also said that the Ram 1500 EV will outperform all of its rivals, including the Tesla Cybertruck. And since it will not be the first electric truck in the segment, it has no choice but to be highly competitive.
Ram 1500 Pricing and Range
In 2021, Ford priced the first high-volume full-size EV pickup at $39,974 for the Ford F-150 Lightning. The Chevrolet Silverado Work Truck EV was soon followed by pricing at $39,900. With no prices released yet, we expect the Ram 1500 EV base model to come in at about $40,000.
Also, Ford and Chevrolet will likely bring down the price tags on their models to coincide with better production volume and decreasing battery costs. The Toyota electric truck and GMC Sierra Denali electric truck will also be in the mix.
It's no secret that the Ram 1500 EV is later to the scene than the F-150 Lightning, Cybertruck, and Silverado EV. Tavares was asked if the delay could cause Ram to lose substantial market share for its best-selling pickup, to which they replied:
We are just going to accelerate, and every time we decide on a new investment on all of those four BEV focus platforms, we make the decision based on our ability to beat the competition at the moment where we hit the ground with the new products. So, of course, we predict or try to predict, what is going to be the pace of progress of our competitors, and of course, we decide our own investments and our own specs based on where we see our competitors going in a very clear competitive mindset which is to beat them when we hit the ground with the new products on those new platforms. So that's how we think about things, and we feel that we are exactly on the right timing with the right power, and by the way, thanks to the scale of Stellantis, we are now doing this race with the other carmakers, and we are just fine about it.
Then there's the fact that Ram will have a couple of years to observe its rivals to base its upgrades. The 1500 EV is bound to be a refined and top-tier electric truck out the gate. Sure, the brand may miss out on potential sales but can avoid some of the mistakes of its competitors.
Ram 1500 Features
Ram 1500 EV development is still underway, but we still have hints of some of the features to expect. Here's what we know (and predict):
Platform
Since the Ram 1500 EV is set to arrive in 2024, there's a good chance it will become the first vehicle that rides on the STLA Frame platform. Stellantis will be adding several many other models to the platform later in the same year.
Other electric pickup trucks offer a towing capacity of more than 10,000 pounds, and a top-performing Ram will need to meet that benchmark. And the 1500 EV could offer a spare wheel under the bed to compete with the F-150 Lightning.
Batteries
We know that Ram 1500 EV batteries will be manufactured in North America. Stellantis announced in 2021 that it will build a lithium-ion battery production plant in Windsor, Ontario. The facility, created in partnership with LG Energy Solution, will house an annual production of 45 gigawatt hours. Stellantis and LG Energy Solution are slated to put $3.9 million ($5 CAD) into the plant, with production beginning in the first quarter of 2024.
Stellantis also plans to establish a lithium-ion battery production facility in the United States alongside Samsung SDI. The plant will be built in Kokomo, Indiana, and produce 23 gWh per year in the first few years while scaling up to 33 gWh over time. The U.S. plant will include a joint investment of more than $2.5 billion and begin operations in 2025.
Range Extender
The Ram 1500 EV will likely come with an optional range extender system, like other STLA Frame models. This solution will help Stellantis appeal to pickup truck customers who are worried about the range and those who work jobs in remote locations with a limited number of charging stations.
In March 2022, Taveras discussed the automaker's long-term strategic plan. He implied that an additional 1500 alternative powertrain truck is in the works, and it would make sense if it was the 1500 EV with a range extender.
The primary selling point of a range extender EV is that they provide the same range as a typical vehicle with a traditional powertrain. And cargo volume, payload, and other vital characteristics are not compromised in the process.
The range of an electric truck drops significantly when towing heavy loads, and drivers can get stranded without planning their trips accordingly. The EV charging infrastructure is making strides toward providing access to more truck owners, but there is still a long way to go. It seems that developing a work truck with an internal combustion engine and electric drivetrain would be a sensible move for Ram. Drivers could turn to the gas engine if they run out of charge, and the ICE powertrain would take care of towing requirements.
Charging
We don't have any official specifications or features for the Ram 1500 EV. The brand stated in 2021 that the pickup truck would fast-charge at up to 150 kilowatts and provide a charging pole locator, dynamic range mapping, smartphone controls, drive mode, EV dynamic trip energy prediction, and smart charging.
A lot has changed since then. The entry-level F-150 Lightning offers 150 kW DC fast-charging, Tesla claims the Cybertruck can hit 250 kW, and GM is at 350 KW.
If Ram is going to compete, it will need to answer the call and push the boundaries a bit. In March 2022, Tavarez spoke about how Ram had made some electrical upgrades and that the 1500 EV will outshine its rivals in charging time.
Design
The Ram 1500 EV will come in a dual-cab configuration, as with most other electric pickup trucks. According to official concepts, it will feature a lower roofline, a steeper windshield, and other design elements that make it more aerodynamic than its gas-powered siblings. Expect an illuminated brand logo and signature lights in the front, and inverted L-shaped tail lights in the back.
One thing can be certain of the Ram 1500 EV: It will not forsake the brand's rugged and raw character that customers have come to love. It may look a bit futuristic, sure. But expect bold styling.
Tavarez told MotorTrend that the 1500 EV will be visually distinguished from its ICE-powered sibling. It will have a visual identity of its own, even if it takes some customers a bit of time to get used to it.
Overall, Tavares seems genuinely confident and excited about the Ram 1500's future. In the Stellantis long-term strategic plan, he stated:
Our Ram 1500 EV is coming to the hot pickup market in 2024. According to our internal performance index our Ram 1500 will outperform all competitors on the attributes customers care most about: range, towing, payload, and charge time. Really thrilling! It's built on top of our new STLA Frame architecture, designed specifically for electric vehicles. Make no doubt that we will bring the best electric truck to the full-size segment!
Getting Your Vehicle Serviced
As you wait for the Ram 1500 EV to hit dealers, don't forget to get your vehicle serviced regularly so that you can resell it at the price you hope for (or keep it as an extra car). Finding a reliable mechanic or service department is critical, especially in a day and age when repair shops are being impacted by a poor economy.
Parts and labor shortages, increased wait times, shipping delays, and increasing repair costs are affecting repair and aftermarket companies just like most other industries. Car owners in many areas of the country are waiting longer for repairs because their service providers are short-staffed, parts are unavailable, or both.
Mount Airy CDJRF has a top-notch repair team, and we're working hard to get our customers' vehicles fixed and out of the shop as quickly as possible. Still, we recommend bringing in your car before it actually needs to be serviced so that you can allow time for delays. Our technicians will provide you with the most accurate estimate we can and keep an open line of communication as work on your vehicle.
Conclusion
Ram customers and fans can expect great things in the years ahead. Alongside other promising models, the 1500 EV will likely turn heads and leave its competitors in the dust.
Prices for electric models will become more affordable as the EV industry evolves. And if you're holding out until the Ram 1500 EV, now is the time to bring your current car into Mount Airy CDJRF for servicing. Don't wait until you're breaking down on the side of the road!