The Dodge Ram Versus the Nissan Titan: Which is the Better Purchase this Winter?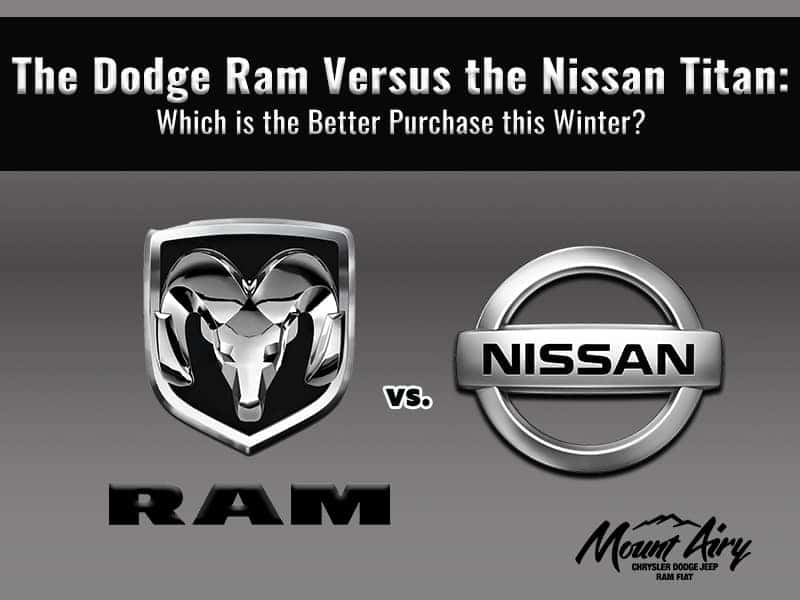 Now is the absolute best time to buy a new truck, but which one (of the seemingly endless makes and models available) should you get? The Ram 1500 has been leading the market for some time now, but is that a good enough reason to go Ram? Let's have a closer, more detailed look at two of the most sought-after pickups today, the Ram 1500 and the Nissan Titan, to find out which one actually offers the most in terms of bang for your buck.
Today's truck market is pulsating with new features and drivetrains and technological capabilities never seen before. The modern truck is luxurious, cool, smooth, and tougher than ever, making it the perfect vehicle for family, fun, and work. But before we look into the reasons why a hardy truck is a perfect vehicle year-round, especially in those frosty winter months, let's see which one has the most to offer, the Ram or the Titan.
Ram vs. Titan
Both trucks have high rankings and a large fan base—the Ram 1500 being the most popular—but when it comes to finding which truck is objectively best in terms of quality and performance, it's a good idea to look at the cold, hard facts.
Here is a detailed breakdown of what we found after researching the specs for both vehicles (all information is based on 2019 models):
Price—
• The invoice price for the standard Ram 1500 is $36,610 while the most similar and comparable (by way of performance and size) Titan goes for $51,290.
• The manufacturer suggested retail price is $38,740 for the Ram and $54,630 for the Titan.
• Monthly payment estimates (without current holiday sales) are $646 a month for Ram and $911 a month for Titan.
Fuel Economy—
• The Ram 1500 has 20 mpg in the city while the Titan offers 15 mpg.
• For highway mpg, the Ram goes for 25 mpg and the Titan falls slightly under with 21 mpg.
Interior Dimensions—
• The Ram has 40.9 inches and the Titan has 41.8 inches in terms of front legroom.
• The second-row legroom is 45.2 inches (Ram) versus 38.5 inches (Titan).
• Looking at head clearance (for those taller individuals), we have 40.9 inches in the front and 39.8 inches in the back of the Ram. The Titan allows for 41 inches in the front and 40.4 inches in the back.
*At this point in our research, it is important to note that legroom and head clearance are the only instances, so far, where the Titan does slightly better than the Ram.
• Overall exterior height is another win for the Ram with 77.5 inches versus the Titan's 75.6 inches. A slight difference, but every little bit adds up when aggregating for the most comfort.
Trailering (indicated in pounds)—
• The maximum trailering capacity is 6550 for Ram and 9380 for Titan.
• Dead-weight hitch max for Ram is 6550 while the Titan does a bit better with 9380.
*Clearly, the Titan can pull more weight and this can be a critical piece of information for those truck drivers looking to tow something extremely heavy. For most people though, owning a truck that can pull up to 6,550 pounds is more than enough. But let's not rule out those of us who need a truck that can pull a house off its foundation.
Engine Power—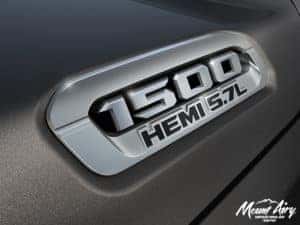 • The Ram offers 305-horsepower at 6400 RPMs. The Titan, 390 horsepower at 5800 RPMs.
• Ram comes as either electric or gas at a V-6 while the Titan only comes as a regular unleaded V-8.
So what do we end up with after looking at all this? Well, hopefully, this narrows the search by placing these trucks into two categories: one that hauls better and offers a bit more room, and one that does just about everything else. The Titan is tough and roomy and it makes sense that it has such a devoted following, but it still can't compete with the Ram's low price and better gas mileage—and we haven't even looked at the added features and technology where the Ram steps out even more.
Sure, the Titan may have a bit more legroom, but when riding in the Ram you can't tell. And if you could, you wouldn't care. The Ram 1500 is too smooth and just too reliable to be competed with.
A Closer Look at the Ram 1500
A big reason for the success of the RAM truck is its adaptive nature, which is the reason we think it is the safest and most fun vehicle to drive during winter. The RAM 1500 is so much more than just a truck. It's simply the best option to combat the snow, ice, and mud experienced during winter. Let's have a look at a few things the Ram 1500 can do:
• Hauling Capabilities. Though it doesn't do as well as the Titan, the 2019 Ram makes big moves in way of hauling and towing. Its powerful V-6, V-8, or electric engine can handle heavy-duty loads with ease and smoothness that you'll find is just not offered by the Titan. Overall power is one thing, but let's be honest: we will most likely not need to tow something that weighs 9,380 pounds. Moreover, most other trucks are not powered by a revolutionary eTorque, hybrid engine that combines fuel and electricity. And what keeps the Ram from swaying or vibrating while hauling or towing big loads is its high-strength steel frame.
For those drivers looking to pull neighbors out of snowdrifts or mud pits, this is your truck. The 2019 RAM's rugged luxury lets you get hard work done with style and comfort.
• No excuse not to make it into the office. The thought of using your RAM truck as an office may sound a bit strange, but Ram understands truck enthusiasts often need to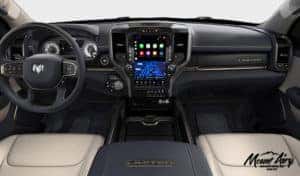 work while on the move, and sometimes the weather tries to keep us down. So why not have a luxurious, roomy cabin to use as a mobile office; an office that can offer plenty of room and soft light and comfort while simultaneously gliding through slush and rain and ice.
Once you open the door to the 2019 Ram 1500, soft leather, dark mood lights, and extra space to sit and spread out welcomes you. This is the perfect office. The Harmon Kardon premium speakers offer clear, crisp conversations with clients, while the dual-pane panoramic sunroof offers plenty of natural light. The middle armrest is a perfect mini-desktop, and the dash and surrounding area serve as a perfect space to hold paperwork and materials. Don't be surprised if you end up spending more time in here than in your actual office.
• Taking the family for a ride. It's freezing outside; it's icy and gray and everyone is starting to get cabin fever. Let's go for a ride! The first rule of transporting the most precious cargo (family) is safety and comfort. And though a truck has never been the first vehicle pictured for luxury rides, this has changed with the Ram.
Once you and your family are inside the Ram 1500 with the doors shut and that engine purring, you realize you are no longer in a truck—at least in the traditional sense. The thick, plush seating that easily seats five makes the already-smooth drive even smoother. As you float on down the road, exterior sounds are muted while the interior atmosphere is enhanced. The tinted windows, mood lighting, and ample legroom place everyone at ease as all begin to understand they are in something new: a luxuriously tough and roomy cabin made to make everyone happy.
It makes sense why so many people are going for the new Ram. It's the perfect combination of an SUV, truck, and luxury sedan, which creates the most advanced crossover—that's not actually a crossover—ever created.
The Time is Now
With end-of-year sales on top of holiday sales, right now is the time to buy a new Ram 1500. At Mount Airy Chrysler Dodge Jeep Ram Fiat, we have some of the lowest prices you can find on the Ram, and with incredible deals like these our stock of Ram trucks is sure not to last long.
For instance, if you want the top-of-the-line (and with all the extra features you can imagine) Ram, we still have a few Limited Edition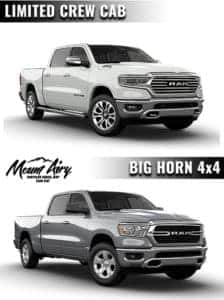 2019 Ram 1500s left—and at a really low price:
• The new 2019 Ram 1500 Limited Crew Cab 4X4 with a 5'7 box has an MSRP of $63,470; however, after the employee discount (which is being offered to all customers this holiday season), retail customer cash, and other discounts equaling up to $10,577 of savings, our price ends up at $52,893.
Or maybe you don't need a Ram with all the bells and whistles and you would like to cut down that price tag even more. Check out the Tradesman Quad Cab:
• Though it comes with an MSRP of $42,375 we have it for much less. After the $3,700 employee discount, $1,000 retail consumer cash, $500 bonus cash, and $1,000 Southeast BC Fast Start Bonus, you end up with a price of $36,175. That is over $6,000 of savings! And with our 110% price guarantee, this offer simply can't be topped.
Here are a few more examples of our big holiday savings on the Ram 1500:
• A new 2020 Ram 1500 Big Horn Quad Cab 4X4 with a 6'4 Box at only $40,386—this is after subtracting over $6,700 in savings, and we offer financing for as low as $504 a month.
• New 2019 Ram 1500 Big Horn/Lone Star Quad Cab 4X4 with a 6'4 box for $37,595. With a suggested MSRP of $46,190, our price saves you $8,595.
At Mount Airy Chrysler Dodge Jeep Ram Fiat there are no gimmicks, no high-pressure sales. We simply have the best prices on Ram trucks with the best personnel to sell them, and that is all we need to keep customers coming back.
But you better hurry! Come get your new Ram today and show your family just how fun winter can be with a new Ram truck.