Available Services at Mount Airy Chrysler Dodge Jeep Ram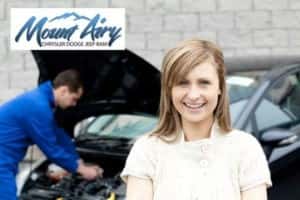 This summer heat can cause a lot of problems for vehicles. And if you find yours not cooperating as it should, the service department at Mount Airy Chrysler Dodge Jeep Ram is a great place to go. Serving all areas from Wytheville, VA to Elkin, NC (and plenty of places in-between). Mount Airy Chrysler Dodge Jeep Ram's certified technicians will take the time and effort to make sure your car is running as it should.
Here are only a few of the available services offered this summer:
Free estimates from the body shop. This goes for minor scratches and dents to complete reconstruction. All estimates are free.
Complete tire servicing and a large variety of tires offered. Need new tires, or just a repair? Either way, Mount Airy's certified technicians can take care of you. And, if you are unsure of which tires are best for your vehicle, they can help you pick out the make and model you need

.

Certified experts can give your vehicle a fast and accurate state inspection. Rather than wait in line for hours to have your vehicle inspected, only to find out they misdiagnosed something, head to Mount Airy and get it done right.
While you wait or shop at Mount Airy Chrysler Dodge Jeep Ram, enjoy our free WIFI. Always running and always free.
Have a crazy schedule? Take advantage of the Early Bird Drop Off and bring your vehicle in even when we are not even open.
The service department works on all makes and models and uses Magneti Marelli parts for any model that is not a Chrysler.
There are many more reasons to choose Mount Airy's service department for your vehicle needs. Their high customer satisfaction ratings being one of them. So if it's time to have a professional look at your vehicle, go with those you can trust. Stop in to Mount Airy Chrysler Dodge Jeep Ram today.
Written by Andrae Bergeron
Mount Airy Chrysler Dodge Jeep Ram contributor