The All-New Electric Jeep is the Talk of the Town!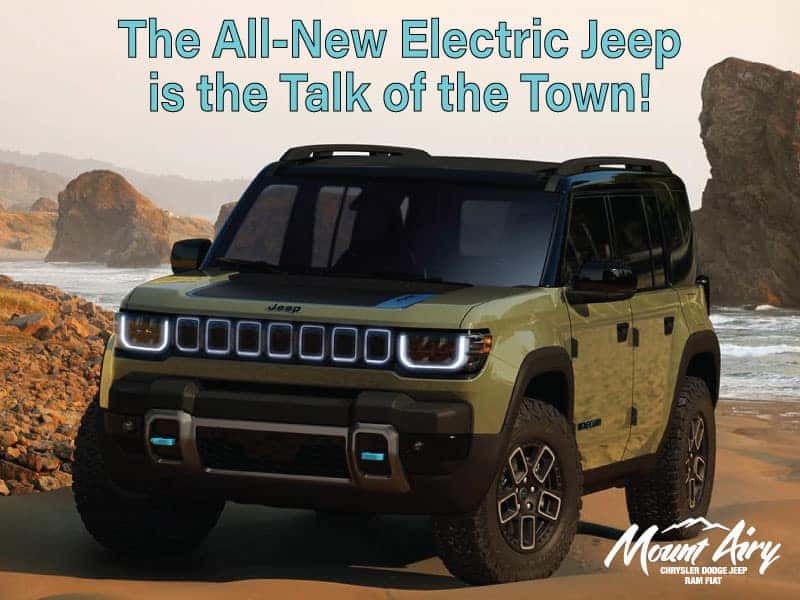 The upcoming Jeep BEV is the first all-electric Jeep. Called "Avenger" in the UK and "Jeepster" in other foreign markets, the BEV is not yet named for North American markets. It looks like this new electric Jeep will be a superb option for anyone in the market for an eco-friendly and efficient vehicle, and it should have many other features car buyers might look for.
Below, we'll talk about what to expect from the new electric Jeep and the platform it will ride on. We'll also cover what we know so far about other all-electric Jeep models coming soon.
Jeep BEV: The Gist
More information will come out about the Jeep BEV set to release in 2024. As for now, we're dealing with limited information. We do know that the BEV is a compact SUV slated under the Renegade in the Jeep lineup. We also know it will be released in foreign markets before it hits US dealerships in 2025.
Efficiency
When it comes to transportation, efficiency is key. An efficient vehicle can help you save time and money while on the road. Here are just a few of the benefits of using an efficient vehicle:
Reduced Fuel Costs:

An efficient vehicle will use less fuel than a less-efficient model, saving you a lot of money over time.

Reduced Emissions:

Efficient vehicles generate fewer emissions, which is good for the environment and your health.

Improved Performance:

An efficient vehicle will perform better, meaning you'll be able to get where you're going faster and more easily.

Increased Range:

An efficient vehicle will travel further on a single tank of gas, so you can go further without stopping for gas.
In other words, driving an efficient vehicle will save you money and help protect the planet. The new electric Jeep has a range of up to 250 miles on a single charge, making it an excellent choice for long-distance travel. Plus, with quick charging capabilities, you'll be able to get back on the road in no time.
Environmental Impact
The emissions produced by inefficient vehicles can negatively impact the environment. Many believe that emissions contribute to climate change, which can cause a host of problems, including extreme weather events and sea level rise. Additionally, emissions can cause air pollution, leading to respiratory problems and other health issues.
Efficient cars produce fewer emissions and help protect the planet. The new electric Jeep will produce zero tailpipe emissions, making it ideal for those who want to reduce their carbon footprint.
Looks
The Jeep BEV is, in a word, cute. It essentially looks like a cross between the Renegade and Compass, though it certainly has unique characteristics to set it apart from its siblings and other models on the market.
Motor Authority took spy shots of the Jeep BEV prototype, revealing a few notable aesthetic qualities. The vehicle is small but has a unique stance with a broad base that tapers towards where you would step before getting into your car. Jeep's signature seven-slot grill is present. One distinction from previous models is that the sleek headlights sit at the top edges of the grille, near the hood line. This, combined with a stylized raised bump in the center of the hood, makes the subcompact SUV look quite aggressive for its size.
Further, the vehicle's X-shape taillights bulge out, adding more ruggedness to the overall aesthetic. And the vertical rear door handles are integrated into the rear windows. Regarding design language, the new Jeep BEV promises a mixture of ruggedness and modernity.
We can expect the Jeep BEV to offer many (if not all) of the features any modern, eco-conscious driver could want. Anticipate a top-notch infotainment system, Jeep's trademark rugged-yet-polished cabin, and comfortable seats, among other traits.
Benefits of Investing in the Jeep BEV
Electric vehicles are becoming increasingly popular as consumers become more economically and environmentally conscious. Here are some of the benefits of driving the new Jeep BEV when it hits the market:
Savings on Fuel and Maintenance
One of the most appealing aspects of electric vehicles is that they are much cheaper to operate than traditional gas-powered cars. Electric vehicles require no oil changes, and their brake pads last significantly longer because regenerative braking recaptures energy that would otherwise be wasted.
In addition, electric vehicles have far fewer moving parts than internal combustion engine (ICE) vehicles, so there are fewer opportunities for something to break down and require repairs. The cost of charging an electric vehicle also costs less than buying gasoline. According to the U.S. Department of Energy, "the cost of fueling an EV is about 60% less than a gas vehicle" (DOE).
In other words, if you spend $100 per month on gasoline, you would only need to spend $50 per month to charge an electric car. The savings will be even greater if you have solar panels installed at your home, as you can then charge your car for free using the power of the sun.
High-Performance Models
With advances in technology, there are now more high-performing electric vehicles hitting the market that don't compromise performance for fuel efficiency. The Tesla Model S, Audi e-tron, and Porsche Taycan are a few of the most popular ones so far. And as we know, Stellantis has announced a comprehensive electrification plan that includes four all-electric models by 2025 and many more by 2035.
Electric vehicles are becoming more powerful each year. Technological advancements allow more horsepower, torque, and towing capacity than ever before. This makes electric vehicles a more viable option for those who need a vehicle that can handle heavy loads or offers high performance. With so many options available, it's becoming easier to find an electric vehicle that meets your needs.
We can expect the Jeep BEV to offer all the performance perks of a gas-powered compact SUV, if for no reason other than it's a Jeep. No brand has a richer history in 4×4 leadership and pushing the boundaries of convention.
Financial Incentives
Another reason for the increased popularity of BEVs is the financial incentives available to consumers. In many cases, electric vehicle buyers can receive a tax credit from the federal government. This credit can be worth up to $7,500, which helps to offset some of the cost of purchasing an electric vehicle.
Additionally, many states offer their own financial incentives for electric vehicle buyers, such as tax credits, rebate programs, or reduced registration fees. These financial incentives make it more affordable for consumers to purchase an electric vehicle, which in turn helps to promote the growth of this technology.
Advancements in Battery Technology
We are seeing serious advancements in battery technology. In the past, electric vehicles had a limited range due to the limitations of the technology available. But batteries have come a long way in recent years and can now provide electric vehicles with a much longer range. This is especially true for newer BEVs equipped with the latest battery systems, and we can expect them to keep improving.
A few of the primary inventions driving the BEV industry forward today include:
NanoBolt lithium tungsten batteries

Zinc manganese oxide batteries

Organosilicon electrolyte batteries

Gold nanowire gel electrolyte batteries

TankTwo string cell batteries

Hydrogen fuel cell batteries
Saving the Planet
Electric cars offer many benefits to the environment. They produce zero emissions, which helps to reduce air pollution. They also help to conserve energy and reduce greenhouse gas emissions.
Electric cars are powered by electricity, which comes from various sources. Some EVs are powered by renewable energy sources, such as solar or wind power. This helps to reduce our reliance on fossil fuels, and it also eliminates the emissions from traditional gasoline-powered cars.
Electric cars also tend to be more efficient than gasoline-powered cars, meaning they use less energy and produce fewer emissions. In fact, electric cars are so efficient that they can help to lower your energy bills.
It's important to note that electric cars do have some environmental impacts. Their batteries can contain harmful chemicals, and the manufacturing process for these batteries can also be harmful. But compared to the impacts of gas-powered cars, EVs are still the more environmentally friendly option.
The STLA Small Platform
Jeep's first all-electric model is set to ride on the STLA, pronounced "Stella" by some executives, a small platform, which Stellantis claims is the most advanced and versatile electric platform in the world. The STLA Small platform is designed for vehicles up to 10,000 pounds, making it perfect for SUVs, crossovers, and pickups. It's also scalable, meaning it's adaptable to various vehicle types and sizes.
The STLA Small platform is built around a modular battery system that can be adapted to meet the specific needs of each vehicle. The platform also features an all-electric powertrain that delivers exceptional performance and efficiency. With its advanced technology and versatility, the STLA Small platform is slated to revolutionize the electric vehicle market.
2024 Jeep Recon
The all-new Jeep Recon is set to hit the market in 2024. It's already generating a lot of buzz, with people eager to get their hands on one. The fully electric mid-size SUV is inspired by the Jeep Wrangler 4xe plug-in hybrid and is designed for off-road enthusiasts who love to explore the great outdoors. It's built for serious adventurers who need a vehicle that can handle any terrain.
The Recon is the perfect choice for anyone who wants a rugged SUV that can go anywhere. It has a powerful engine and plenty of cargo space to bring along all of your gear. Plus, it's equipped with all the latest safety features, so you can feel confident while out on the open road.
Whether you're a Jeep Wrangler fan who wants the benefits of a BEV or are simply looking for an adventure-ready SUV, be sure to check out the Jeep Recon when it hits the market in 2024.
2024 Wagoneer S
The all-new Jeep Wagoneer S will also enter the market in 2024, but as a premium full-size SUV. It's sure to impress with its sleek design, top-tier performance, and ample interior space.
The Wagoneer S is built on a refined chassis that makes it easy to handle and drive efficiently. It also features an all-electric powertrain that delivers plenty of torque and acceleration for a thrilling driving experience. And with room for up to seven passengers, the Wagoneer S is perfect for families or groups looking for an eco-friendly alternative to traditional SUVs.
If it follows suit with the gas-powered Wagoneer models, the Wagoneer S will be among the most luxurious and impressive EVs available. And top-notch driving range will serve buyers on daily commutes and road trips alike. So if you're looking for a stylish, comfortable, and environmentally friendly SUV, keep an eye out for the Jeep Wagoneer S in 2024.
Conclusion
The fully electric Jeep compact SUV coming in 2024 (2025 in the US) is designed for anyone hunting for a vehicle that is environmentally friendly, economical to run, and can meet a range of adventuring needs. The Jeep Recon is designed for drivers who need a mid-size, while the Wagoneer S caters to those searching for a luxury model.
When the time comes, Mount Airy CDJRF will be here to help you find the perfect electric Jeep for your needs. We also have a wide selection of efficient cars to choose from now, and our team is always happy to answer any questions you may have. So what are you waiting for? Connect with us today to learn more and schedule a test drive!