Get It Before It's Too Late! Best Offers of the Season at Mount Airy CDJFR
You kicked off the season getting stuffed at Thanksgiving, survived Black Friday shopping, and now you are full swing into the holidays. So what's next? If you're in the market for a new or used vehicle, you are definitely after the lowest prices possible. The magic of the holiday season is all around, which is why we're excited to tell you about the lowest prices you can find all year here at Mount Airy CDJRF.
It's the coldest season of the year with the hottest deals.

Customers are always looking for a way to strategize their shopping to get the best deals. On Black Friday, everyone has their sights set on major purchases like 4K flat-screen televisions, which is why it is actually worth heading out to the lines and experiencing some minor aggression to save hundreds. Car dealerships are no different, except luckily for you, there are no lines to wait in, no fellow customers to fight, excellent customer service at your service, and the only aggression you will experience is from the aggressive discounts on year-end sales.
Why is it good to buy at the end of the year?
It isn't really insider knowledge that the end of the year is the best time to buy a vehicle. Automakers and dealer incentives overlap on for the end of quarter and year sales, meaning the best discounts on the most popular models. Sales people are incentivized with financial bonuses, meaning the more they sell, the more they make, offsetting any discount given on a single vehicle.
The triad of great deals and rich incentives from dealerships converges nearing the end of December. Basically, this means that everyone wins; sales people are incentivized to sell more vehicles, thus giving the making the best and cheapest deals of the year, and customers are receiving the best possible savings!
Beyond just our word, the data backs it up. According to Edmunds.com, the most discounted months for buying a vehicle are October, November, December, but December is truly the best time of the year to buy. December has the year's highest discount off MSRP, coming in a 6.1 percent on average, and the highest incentives offered by dealerships. Purchasing at the end of the month in December, which is in combination with the end of the quarter and annual goals, adds up to an average of 8.3 percent savings on a new vehicle.
On top of that, dealerships tend to have the largest inventory in December, with vehicles for the New Year coming in. With the prior model-year cars remaining on the lot, dealerships are ready to move older inventory out to make space for the new. This is why you will find the biggest discounts on the 2018 models. In the case of Year-End Sales, timing can save you thousands!
Higher-end models, for less!
It may go without saying, but because prices are lower, you can upgrade more than ever before. The amenities that might have been just out of your budget are now within your grasp. Heated leather seats for those cold, morning commutes? Add it on!
New vehicle for the New Year = new you!
What better way to start the New Year than with a new vehicle to get you driving off to a fresh start? If you are looking to buy in January, there's no need to wait 11 months to get a good deal. December is the best month to purchase a vehicle! We've included some of the most popular 2018 models below for you to check out.
What would look good with a bright red Christmas bow on it?
Picture this: the vehicle of your dreams sits in your driveway as you wake up on Christmas morning, wrapped in a bright, red bow. That's right, it's the 2018 Jeep Grand Cherokee. The 2018 Jeep Grand Cherokee is a trail rated luxury SUV, combining the rugged appeal of Jeeps with a refined interior charm.
The beauty of the Grand Cherokee is that it blends perfectly between off-roading and city utility. Cruising in this SUV is designed for comfort, with adult-friendly seating in the front and back seats, as well as plenty of cargo space in the back. It comes standard with Bluetooth, USB ports, a 115-volt power outlet, rear parking sensors, a 7-inch touchscreen, satellite radio, and a heated steering wheel. One of our favorite features is the power liftgate, which is there to help you easily load up your supplies and gear for your next adventure.
What about a sleek ride for New Years?
We've got you covered. We recommend the new 2018 Dodge Challenger at only $40,725 and it comes in a stunning red exterior that will be sure to turn heads.
Kelley Blue Book describes the 2018 Challenger as, "Whether you want to go fast or not, the 2018 Challenger is a terrific looking car, with clean lines that blend classic proportions with modern design." To this, we would add that the design of the 2018 Challenger is extremely intimidating, but the insides offer an aggressive and serious performance. You will take over the streets with the TorqueFlite eight-speed automatic transmission and one of the most powerful engines on the market. In addition, the Challenger has a surprisingly spacious second row and abundant trunk space. The 2018 Challenger is an impressive, yet practical sports car that delivers raw power.
What if I want a ride in style that won't break the bank?
The 2018 Fiat 500 Pop is not only adorable, but prices in at only $15,785. You can also finance for only $197 a month! This classically Italian styled car is a great choice for those who want a small car with a bold performance.
This hatchback comes standard with 16-in alloy wheels, fog lights fuller power accessories, heated mirror, a backup camera, Bluetooth capabilities, two USB ports, and an Uconnect touchscreen interface. As for safety, it comes standard with stability control, 4-wheel anti-lock disc brakes, and seven airbags in the front, front-side, driver-knee, and full-length side-curtain.
With increased horsepower from prior Fiat 500's, the Pop handles tight spaces easily and gracefully. You'll love every inch of this car, from the ride to the charming, retro design.
What about April?
What sounds like calling out an oddly specific month is actually something to keep in mind. To our off-roading fans, we see you! The trails may be closed for the season now, but we're thinking ahead, too. 2018 was an extremely exciting year for Jeep fans with the release of the 2018 Wrangler. Depending on the build you want, the 2018 Jeep Wrangler delivers on price and power.
Now, the Jeep Wrangler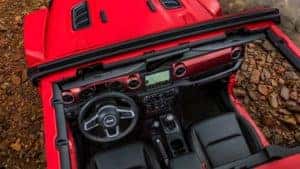 Unlimited Sport is only $32,465, or financed for $405/month. With a 6-speed manual transmission and 5 models to choose from, you'll be styling and in control on the road.
The 2018 Wrangler brought this beloved off-roading vehicle into the modern, everyday use with a 35% city fuel improvement and state-of-the-art technology and connectivity. This vehicle looks effortlessly cool whether it's as shiny and new as it is on our lot now, or in a few months when it's covered in mud from heading off-roads.
April is too far into the future. I'm only thinking about snow; show me four-wheel drive options.
With forecast of snow as early as this first week of December in North Carolina, it is not overreacting to get prepared ahead of time. We know that in most parts of North Carolina, snow equals both rural and citywide shutdowns due to the lack of resources to clear the roads. However, with a new four-wheel drive vehicle, you will not even think twice about heading out to the store for your staple snow valuables of bread and milk.
Cue the 2018 RAM 3500. At $49,485, the 2018 RAM 3500 is everything you ever wanted in a truck.
The 2018 RAM 3500 comes with 6-Speed Manual G-56 transmission, Uconnect 5-Inch Display, 17-inch dual rear wheels , a ParkSense Rear Park-Assist System, and Trailer Brake Control. This diesel engine and automatic transmission yields monumental torque, but has a comfortable and quiet ride. This heavy duty truck is all about towing, hauling, and bed capacity. If you're looking for safety on and off the road, the RAM 3500 is for you.
What if I want a new 2019 model?
If you're ready to leave 2018 behind entirely, we support you 100% in your new year's resolutions. While we have amazing discounts on this year's 2018 models as we move them off the lot, you better believe that we are already bringing in 2019 model vehicles. For those interested in the car industry, the months in recent past have revealed the latest new models in the spotlight, bringing forward exciting new trims, features, and technologies.
What if I'm still mentally recovering from Black Friday?
We haven't mentioned this before, but our Black Friday deals, specifically the retail bonus cash is still in full swing. We don't expect you to choose between the one-day Black Friday deals on TVs and laptops and coming to the dealership; we love our customers so much that we extend Black Friday deals throughout December. Take the new 2019 RAM 1500 Big Horn/Lone Star Crew Cab 4×4, for example. The 2019 RAM 1500 goes for $48,220, but between $1000 Black Friday Bonus Cash and other savings totaling in at $10,150, you're only paying $38,070. $10,000 is savings is no joke!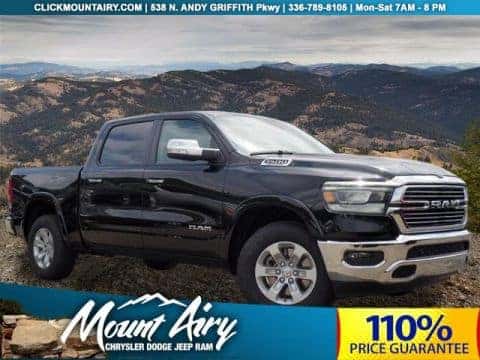 The 2019 Ram 1500 was fully redesigned with reduced weight, and increased payload and towing capacity, plus more rear-seat space and a new mild hybrid power system. You won't be able to feel the difference between the smooth-riding suspension of the 2019 Ram 1500 and a luxury sedan; this cabin delivers sensible comfort and quiet as its top priorities. But it's not all work with no play; the 2019 Ram 1500 also promises on its off-roading capabilities, and you're sure to have a great time in the dirt and mud.
The economy of America in 2019 is uncertain, but you know what you can count on?
Despite political leanings or even if you do not want to be involved with politics, it is hard not consider that 2019 could bring tariff conflicts with China. This would mean new car prices increasing drastically, alongside rising interest rates. What you can count on are the savings you can get right now at Mount Airy CDJRF!
PSA: A moment of truth.
2018 has been a wonderful year. We've built and maintained more relationships with our customers here in Mount Airy and across the Carolinas, and watched our family grow with every car driven off the lot. We can't think of a better way to close out the year than with giving our loyal customers the lowest prices of the year during the best time of the year.
Come celebrate the end of 2018 and drive off into 2019 with a brand new vehicle. Our staff here at Mount Airy CDJRF is in the holiday spirit and ready to help you check a new vehicle off of your wish list without breaking the bank. Schedule your test drive today!