2020 Jeep Gladiator: There's A New Path Being Made
Jeep has reached the epitome of ruggedness by taking the Jeep Wrangler and the most advanced midsize pickup to-date and morphing them together as one vehicle. The said it couldn't be done, they said it shouldn't be done, but Jeep runs according to its own rules. So is this new vehicle a Jeep? Yes. But is it a truck? Yes. It is the best of both, and quite possibly, the coolest and toughest vehicle on the road. Welcome the 2020 Jeep Gladiator.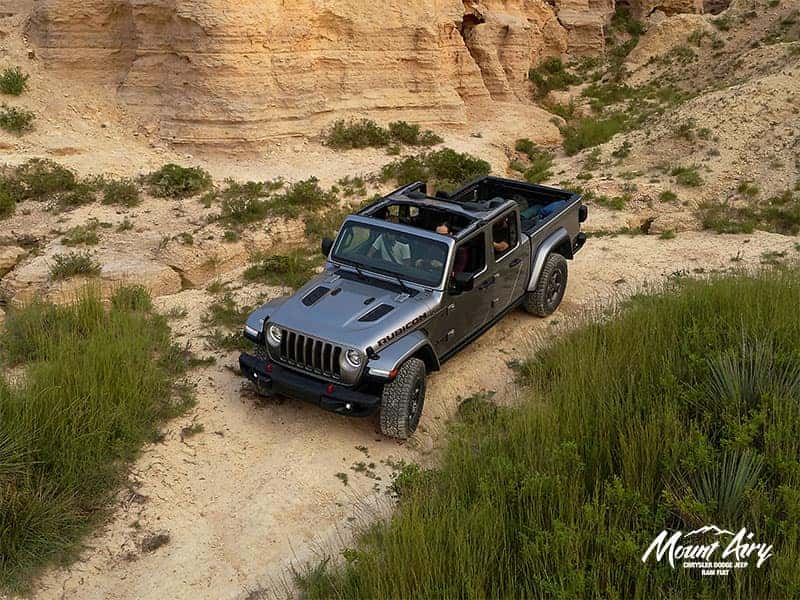 Why You Need this Vehicle
In some ways the all-new Jeep Gladiator is exactly what it looks like: half-Jeep, half-truck. In other ways it is so much more: a beefy vehicle that's not afraid to go off-roading; a midsized pickup that is so advanced there is nothing else out quite like it; and a family car offering smooth, easy driving. Sounds almost too good to be true, we know. But, guess what? It's not. This newfangled utility vehicle is sure to turn heads and impress even the most knowledgeable of care enthusiasts. The Gladiator is something never been done before.
Even though it's the brand's first pickup since 1992, Jeep has not failed to keep up with what the modern consumer wants and needs in a truck. This is important—knowing how the pickup of today is used—because trucks aren't what they used to be. Whereas before they were these clunky, minimalist vehicles made for either hauling or towing, they are now built to be the all-encompassing vehicle that offers a smooth ride with advanced capabilities to make everyone happy, children and adults alike. The same could be said about the Wrangler itself: once an ultra-rugged machine meant to get dirty, rusty, and beat up, the more modern versions have managed to keep the original toughness, but add in a lot of luxury and new technology. Jeep has proven in the past they are willing and capable of keeping up with the most modern advances, but with the Gladiator, they actually take the lead in innovation.
This is really what Jeep is all about, taking something already proven and making it better. And in this case, Jeep has taken both the Wrangler (their own venerable vehicle) and the concept of a midsize pickup to new levels.
It doesn't hurt that the new Jeep Gladiator looks pretty cool—scratch that: REALY COOL. The long frame stretches across the road. It sits low, atop four chunky wheels—crouched in position to takeoff and cut through rugged paths. It's boxy shape reminds us it is still a Wrangler, but the open bed in back piques curiosity. In full view, the Gladiator shines bright with slight curvature around the bed and front, but all following long, hard lines creating the 218-inch frame (the longest Jeep made). It's truly a marvel to watch this machine take over the road.
Here are a few more specs worth noting to the look of the 2020 Gladiator:
The zipperless Sunrider soft-top and lightweight panels to the hard top are easier than ever to remove—with one hand, even! Now drivers can go from a covered vehicle to a complete convertible within just a few minutes. Imagine stopping at a light and having the top down, with you back in your seat, before the light even turns green.
Feel like getting a little closer to nature while you drive? The Gladiator maintains its Wrangler-ness by offering the capability to remove all four doors, as well as, fold down the front windshield. This is the best (some would say the only) way to splash through big puddles and smaller bodies of water. Just because you have yourself a shiny, new Gladiator doesn't mean you have to wait on getting dirty. Think of it like this: a clean Gladiator is a sad one. They were born to get dirty and caught up in sticky situations. Go out and expore!
Now let's look at that bed:
Rugged Steel Box: the 5-foot steel bed comes with tie-downs and available spray-in bed liner, which is durable enough to handle extremely heavy loads. This is not Jeep simply slapping a bed on a Wrangler. This is a true-blue, heavy-duty truck bed made and ready to handle anything you dare throw in it.
Weatherproof Power Outlet: this advanced truck bed comes with a 115-volt power outlet located in the rear of the bed to help you saw through plywood, charge power-tool batteries, or even warm-up that new meat smoker. There is a switch in the cab of the Gladiator that activates the outlet, so it's not constantly running.
Secured Cargo: the Trail Rail Cargo Management System uses adjustable tie-downs with overlapping rails to weigh down and secure items resting in the bed. This is great for those items that you are afraid might fly out of the bed during the drive.
Advanced Tailgate: the three-positioned tailgate is easy to lower and close, and allows for the following carrying options: upright, midway up, and completely flat. These different positions allow for safe carriage of all sorts of materials from the ultra-flimsy to the long, more awkward ones.
Roll-Up Bed Cover: the Tonneau offers a sleek way to cover your bed. Simply lock it into position and unroll to cover your luggage or other smaller items to keep them from encountering unforeseen rain.
On-Road/Off-Road
Here's the news: the 2020 Gladiator needs to be able to do everything the most modern Wrangler can do—fight through muddy paths, crawl over rocky terrain, and cruise down country roads. Here's the good news: it can do all these things and more, namely in terms of traction, water fording, maneuverability, articulation, and ground clearance.
Every wheel of the Jeep Gladiator works independently do drive you forward, making sure you always have the best traction. This feature shines best when climbing over large rocks or dipping through big potholes. Each wheel keeps turning, allowing you constant momentum.
With its high air intake and advanced water sealing, you can cruise though water of up to 30-inches. This will definitely help you enjoy the creeks and streams found down the beaten path.
Optimized wheelbases and precision steering allows the rather long frame of the Gladiator to ease through tough, tight trails and spaces. It really is amazing how well the 2020 Gladiator maneuvers around rocky terrain. Whether elevated or flat, the Gladiator pushes through it all.
This term means all four wheels are able to maintain connection with the ground, no matter how uneven the drive is. It's fascinating to watch, as the wheelbase twists and bends to always keep the vehicle in contact and control. Jeep has thought of everything with the Gladiator.
Between the ground and the underside of the all-new Gladiator, there is 11.1-inches of clearance. Trying to picture this can be tough, so go ahead and break out the tape measure. That's a lot of clearance! Now you can drive over logs and branches that would before keep a new adventure from ever happening.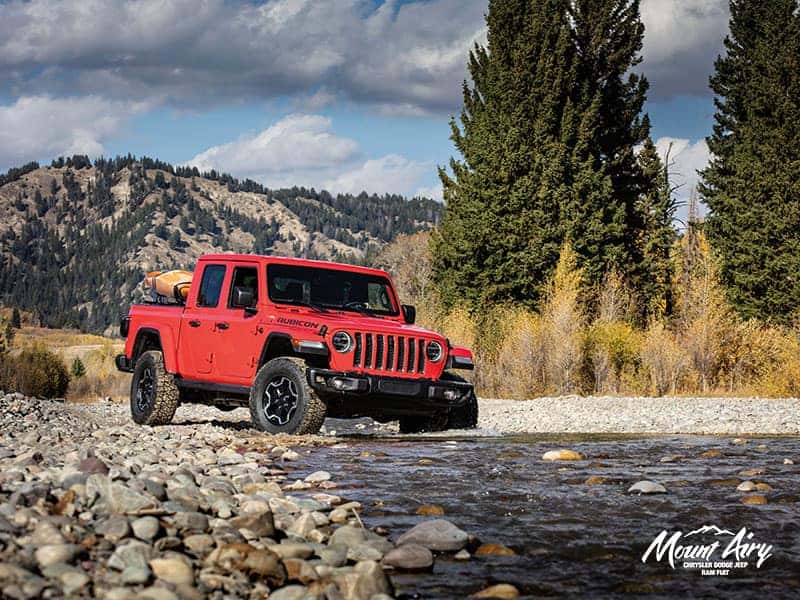 The Competition
The Drive website does a wonderful job at providing a quick breakdown of the 2020 Gladiator's specs compared to other modern counterparts—or, at least those who are close. Have a look for yourself:
Towing Capacity:
2020 Jeep Gladiator: 7,650 pounds
2019 Ford Ranger: 7,500 pounds
2019 Chevrolet Colorado: 7,000 pounds
2019 Toyota Tacoma: 6,800 pounds
2019 Nissan Frontier: 6,500 pounds
Payload Capacity:
2020 Jeep Gladiator: 1,600 pounds
2019 Ford Ranger: 1,860 pounds
2019 Chevrolet Colorado: 1,581 pounds
2019 Toyota Tacoma: 1,620 pounds
2019 Nissan Frontier: 1,502 pounds
Notice that the new Gladiator is right up there with the best of them—actually leading in towing capacity! Here are a few more specs:
Fuel Economy (Ford Ranger only has a 4-cylinder engine):
2020 Jeep Gladiator: 16 mpg city/23 highway
2019 Ford Ranger: 21 city/26 highway
2019 Chevrolet Colorado: 17 city/24 highway
2019 Toyota Tacoma: 19 city/24 highway
2019 Nissan Frontier: 16 city/23 highway
Ground Clearance:
2020 Jeep Gladiator Rubicon: 11 inches
2019 Chevrolet Colorado ZR2: 8.9 inches
2019 Toyota Tacoma TRD Pro: 9.4 inches
Off-Road Angles:
2020 Jeep Gladiator Rubicon: 43.4° approach/20.3° breakover/26° departure
2019 Chevrolet Colorado ZR2: 30° approach/23.5° breakover/23.5° departure
2019 Toyota Tacoma TRD Pro: 35° approach/23.9° breakover/26° departure
So what sort of insight can we gather from this information? Well, the Gladiator is not just a Jeep/pickup hybrid. It fully operates both as a Jeep and a truck—able to keep up with anyone else on the market; in fact, the Jeep Gladiator is already leading the market in many areas.
Impressive Interior
Not only does the Gladiator perform way beyond expectations, it also has quite a plush and roomy interior—with some impressive technology as well.
Once inside, you feel like you are in the most advanced Wrangler ever made, which is actually true. The first thing you may notice is the exterior color and materials also serve as trim on the inside. But what's really impressive is how well these materials—sleek, smooth metal—interact with the soft-touch materials running throughout the interior. This relationship of different materials and tones creates a sophisticated, yet rugged feel. Just the sort of atmosphere you want in an advanced SUV.
There is plenty of fancy technology inside the 2020 Jeep Gladiator, enough to make your off-road travels just a bit more civilized and fun.
Check these pieces of technology out:
With the Uconnect voice command system, answering the phone, making calls and texts, even controlling your music have never been easier—and safer. The Gladiator gives you plenty of reasons not to look at your phone while driving.
The Gladiator's SiriusXM Guardian and Roadside Assistance both connect to your phone so that you can have remote access from just about anywhere. This allows you to maintain control of your safety and entertainment even when you are outside of the vehicle.
Jeep Gladiator has a wonderfully advanced navigation system that allows you to activate and control it using touchscreen or voice commands. Not only does the navigation system let you know where you are going and how to get there, it also gives information on where ATMs, restaurants, and so much more are located.
At Mount Airy Chrysler  Dodge Jeep Ram Fiat, we are extremely excited about the arrival of the all-new 2020 Jeep Gladiator. In fact, some of us are so ready we can't sleep at night! The arrival of any new vehicle is fun, but when something comes along such as the Gladiator—the perfect utility vehicle that can haul and tow and cruise and do so much more—it's even more exciting.
Even though we don't currently have the Jeep Gladiator on the lot, this doesn't mean we won't eventually have the brightest and best. And it definitely doesn't mean we don't know everything there is to know about it. Please come in or call for any information you want on the impressive Gladiator. You will find we just can't wait to talk about it!