Mount Airy Chrysler Dodge Jeep Ram: Out with the Old 2016 and In with the New 2017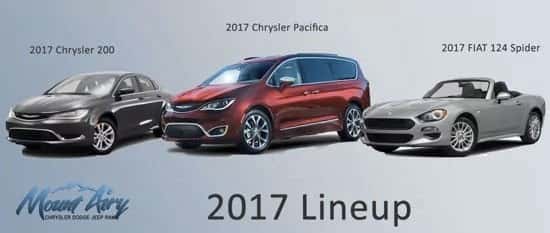 2016 and 2017 cars and trucks for sale now at Mount Airy Chrysler Dodge Jeep Ram! Looking for a new truck in Galax, Va or Winston-Salem, NC- don't miss the sale in Mt Airy NC!
It's that time of year when we get rid of the old to make way for the new, and we are extremely excited for you to see our low prices on new 2017 model vehicles. People all over, from Wytheville, VA to Winston Salem, NC to Galax, VA, know Mount Airy Chrysler Dodge Jeep Ram has the best prices on new vehicles. And this year is no exception.
Fall is our favorite season at Mount Airy. The leaves are in high color, the weather is cool. But most important is the early arrival of next year's vehicles. 2017 has a lot to offer in way of vehicle upgrades with shiny new colors, modern designs, and advanced technology. Here are a few vehicles worth checking out this season:
2017 Chrysler 200 Limited Sedan. This 2.4-liter, 4-cylinder sedan provides top-of-the-line luxury at a surprisingly low price. At $26,400 you can choose between a multitude of colors and trim options. And a quick visit to our dealership can get you all our financing options and warranty deals.
2017 Chrysler Pacifica Limited Van. At $49,450 you can drive away in one of the most impressive minivans ever made. The 3.6-liter, V-6 engine has plenty of power to get you and your family wherever you want to go. And, if you act now, you may qualify for 0% financing and $500 cash back.
2017 FIAT 124 Spider Classica Convertible. Yes, we have the Spider! And it's only $27,340. If you are looking for a fast, fun convertible, this is your car. But you better act fast. These are already selling off the lot.
We also have the FIAT 500, the Spider Lusso, varying trim levels of Jeep Cherokees and Patriots, and many more.
Come in to Mount Airy Chrysler Dodge Jeep Ram today and find the best deals on the best 2017 model vehicles.
Written by Andrae Bergeron