"Wood" You Buy a Wagoneer? Jeep May Relaunch Classic SUV
When the Jeep Wagoneer was first manufactured it was an immediate hit, and in the many years since, it has turned into a celebrated collector's item. Lately, there has been speculation about a possible return of the venerable "woodie."
With its whitewall wheels, vinyl-wood paneling, and roomy interior, the Jeep Wagoneer (SJ) was designed to become a classic and reigned all popular from its introduction in 1963 to its final days in 1991. While other makers focused on stripped-down work trucks, Jeep loaded the Wagoneer with features like power steering, an automatic transmission, and a factory installed AC or radio. Available as a two-door or four-door, the Wagoneer brought the entire family together to ride in ease and comfort. First marketed as a station wagon, the high-riding, boxy car was rechristened a sport utility vehicle when Jeep coined the term in 1974.
After nearly 30 years in production, the Wagoneer rolled off the production line for the last time on June 21, 1991. It was metallic hunter green.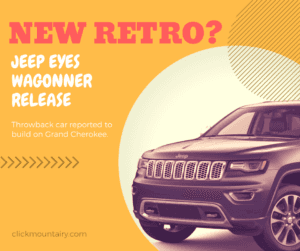 But… good things roll back around to those who wait.
Jeep is rumored to be working on plans to launch a luxury edition of the Wagoneer — with faux-wood paneling! — at some point in the not too distant future. It once was scheduled for a 2019 release. Guesses now point to around 2020 or 2021.
Will the new Wagoneer project the same campy-cool, beach-vibe as its former self?
There have been other vehicles to try and posses the same coolness as the original luxury SUV. The Plymouth Voyager minivan slapped a few wood-like pieces on its sides, but it lacked style and looked exactly like the beast it was — a poorly-designed people mover. There was no cool factor. The Buick Roadmaster Estate, a tremendous boat of a car build with a V8-engine from 1991 to 1996, did a little better job sporting its wooden panels, but the rise of the full-sized SUV put it out of production. These attempts, and many others, to create a modern woodie paled in comparison to the Wagoneer.
There's more to re-launching an old classic than just keeping a few of its most memorable parts. A lot of what turns old cars into classics is the very fact they are old. They herald a time gone past when wind tunnel tests and gas mileage ratings weren't as much of a concern and bumpers were made of steel. Even those who wouldn't describe themselves as car aficionados have a bit of nostalgia for the cruisers of old with rusted out Buicks and Fords making the backdrop of plenty a black-and-white wedding photo on Pinterest.
How well a modern Wagoneer would sell? Volkswagen brought back the Bug. They updated it, made it run better, added luxury items, but kept car's most iconic features: the round shape, its cute small frame, and its zippy pick-up. Meanwhile, the Ford Thunderbird, which created the "personal luxury vehicle" niche when it was release in 1955, bombed when it was briefly resurrected from 2002-2005.
Whether a new Jeep Wagoneer is vastly different or very much the same — leaked pictures from back in 2016 hinted at something like a vastly upgraded Grand Cherokee — there's something exciting about the SUVs pioneer making something old new again. In addition to the Wagoneer, a Jeep Wrangler-based truck is slated for release in late 2019. One thing that has been proven time and time again is that if any car maker has succeeded by reinventing itself on a theme, it's Jeep. The style, rugged toughness, and sheer pleasure of driving any Jeep has earned the brand an extraordinarily loyal following.